AHAMADABAD: Voting for the first phase of Gujarat Assembly elections in 19 districts of Saurashtra-Kutch and 89 seats in southern regions ended at 5 pm on Thursday. In the first phase of assembly elections in Gujarat, 60.20 percent polling has been done till 5 pm on Thursday.
Polling began at 8 am to decide the fate of 788 candidates in 89 constituencies spread across 19 districts. Till 3 pm, 48.48 percent polling was recorded.
Barring a few sporadic incidents and some complaints of electronic voting machine (EVM) glitches, the polling process, which began at 8 am, was by and large peaceful. The Election Commission said the final turnout figures were yet to come as figures for some polling stations were not received and postal ballots were not included. Highest polling of 72.32 percent was recorded in Tapi district. The tribal-dominated district comprises two assembly constituencies, Vyara and Nijar. With around 68.09 percent polling, Narmada district came second.
In Saurashtra region, Bhavnagar recorded the lowest voter turnout of 51.34 per cent till 5 pm. Besides Narmada, more than 60 per cent polling was recorded in four other districts including Navsari (65.91 per cent), Dang (64.84 per cent), Valsad (62.46 per cent) and Gir Somnath (60.46 per cent).
The Election Commission said the polling was largely peaceful, barring a few incidents of clashes between rival groups. In Jamjodhpur of Jamnagar district, women voters lodged a protest against the non-availability of a separate booth for them at the polling station. In Junagadh, police tried to stop a Congress functionary when he was on his way to a polling booth with a cooking gas cylinder on his shoulder.
The Election Commission tweeted a picture of 104-year-old voter Ramjibhai and said that he participated in the celebration of democracy by voting at the polling booth instead of opting for postal ballot. The Election Commission in the morning tweeted a picture of 100-year-old voter Kamuben Patel showing indelible ink on her finger after casting her vote at a polling booth in Umbergaon assembly constituency in Valsad district.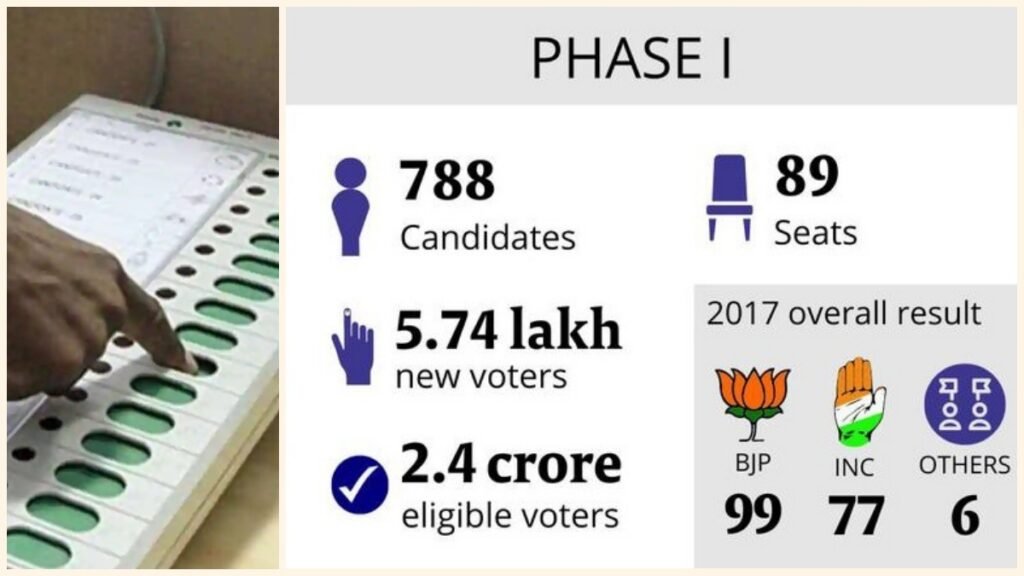 Out of the total 182 seats in the state assembly, 89 seats went to polls under the first phase of elections. The state Chief Electoral Officer (CEO) said 33 ballot units, 29 control units and 69 Voter Verifiable Paper Audit Trails (VVPATs) were replaced due to glitches at various centers in the first three hours of polling. Amid polling in the state, Prime Minister Narendra Modi addressed rallies in Panchmahal's Kalol and Chhota Udaipur, which will go to polls on December 5 in the second phase of assembly elections.
"Around 0.1 per cent ballot units, 0.1 per cent control units and 0.3 per cent VVPATs were changed in the first three hours of polling," the state CEO's office said in a release. Reserve machine sets are available in all districts. Wherever there is a small or big problem, arrangements have been made to remove it as soon as possible.
Among those who voted early in the morning were senior Bharatiya Janata Party (BJP) leader and former Gujarat Chief Minister Vijay Rupani, BJP state unit chief CR Patil, Rajya Sabha member Parimal Nathwani, BJP candidate from Jamnagar (North) Rivaba Jadeja, Congress Paresh Dhanani, former leader of the opposition and Aam Aadmi Party (AAP) state unit president Gopal Italia. Rivaba Jadeja cast her vote at a polling booth in Rajkot while her husband and cricketer Ravindra Jadeja cast his vote in Jamnagar.