New Delhi: The severe cyclonic storm Biparjoy entered land from the sea through the Jakhau coast in Kutch, Gujarat. With this, the devastation started and the wind speed reached 125 kilometers per hour. Due to the severe cyclone, there was heavy rain in many districts including Mandvi, Devbhoomi Dwarka. According to IMD, the center of the cyclone is spread over a radius of about 50 km.
Cyclone BipOrjoy caused heavy damage after hitting the Jakhau coast of Gujarat. On the other hand, the effect of this storm has been in Kutch-Saurashtra 8 districts. Going ahead, it left behind huge devastation. Due to this, trees and electric poles have fallen in many places. Wherein, 2 people died in Bhavnagar due to this storm. More than 22 people have been injured.
A man and his son died while rescuing their goats trapped in a swollen drain in Gujarat's Bhavnagar on Thursday. In fact, water started flowing over a drain passing through Bhandar village near Sehore City. Due to this sudden influx of water, a herd of goats got trapped in the drain. Ramji Parmar, 55, and his son Rakesh Parmar (22) entered the drain to save the animals. Suddenly they were swept away in the water. Their bodies were taken out from some distance away.
If seen, the effect of the cyclone is still there in Gujarat. Whereas in Kutch, Mandvi, Naliya, Narayan Sarovar, Jakhau Bandar, Mundra, and Gandhidham, Ahmedabad is currently receiving heavy rains in the entire state. Strong winds are blowing here at a speed of 90 to 125 kmph. There is no electricity in the entire Mandvi for 18 hours. Everyone is troubled by this. At the same time, in the last 24 hours, 2 to 7 inches of rain has also been received in Kutch.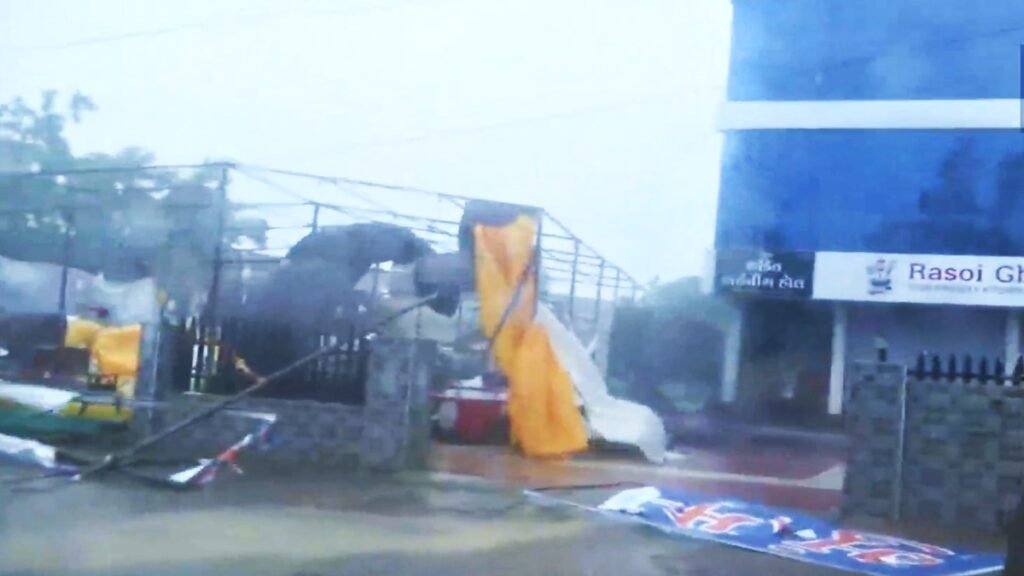 At the same time, this storm has now entered Rajasthan as an entry depression. For the longest time, it will now be in Barmer near the Pakistan-Gujarat border. It is likely to weaken till Friday late evening by coming to the border of Balotra, Jodhpur.