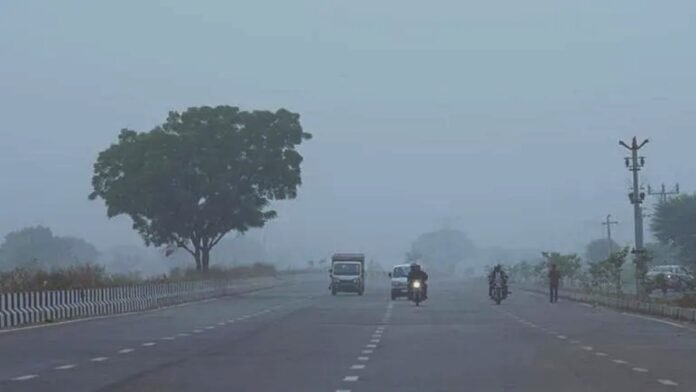 New Delhi: The effect of snowfall in the hilly states including Himachal Pradesh is now visible in the plains. Cold has started increasing from UP-Bihar to Delhi-NCR. Due to snowfall in Kashmir, Himachal Pradesh, and Uttarakhand, there is a change in the weather in North India and the temperature continues to fall continuously. According to the Meteorological Department, in the coming days in the areas of North and Central India, the temperature will fall further and the chill will increase. At the same time, there is still no hope of getting relief from the rains in the states of South India. There is a possibility of rain in Tamil Nadu and Puducherry even today.
According to the Meteorological Department, the coldest of this season was felt in Delhi on Wednesday. Delhi recorded a minimum temperature of eight degrees Celsius on Wednesday, which is the lowest minimum temperature so far this season. In the coming days, a further drop in the temperature of Delhi will be recorded. Not only this but due to the forecast of slow wind speed, the air quality can be 'very poor' by Friday. A thick sheet of mist can also be seen in the morning. The effect of icy winds in the Himalayan region can also be seen in the weather patterns of Delhi-NCR.
Cold will increase in UP-Bihar
The Meteorological Department further said that the winter season is going to increase in Uttar Pradesh and Bihar as well. Snowy winds have been forecast in Bihar and UP for the next one or two days. More drops in temperature can be seen during the morning and night and the sky will be completely clear during the day. At the same time, the cold is going to increase in Uttarakhand and Himachal Pradesh as snowfall has been predicted in the high-altitude areas of these two states even today. Along with this, it is snowing in Kashmir as well and in many areas, the mercury has gone below zero. Even before December, the havoc of cold started appearing in Rajasthan.
Where will it rain today?
According to the weather information website Skymet Weather, today there may be heavy rains in one or two places with light to moderate rains in some areas of Tamil Nadu, Andhra Pradesh, Karnataka, Andaman, and Nicobar. Light rain is possible at one or two places over the remaining parts of Karnataka and Rayalaseema and Lakshadweep. There may be some further drops in the day and night temperatures in parts of Northwest, Central, and East India.