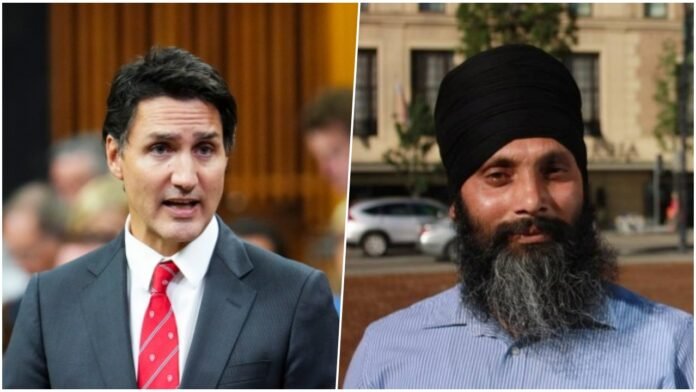 New Delhi: In a shocking move, Canada has expelled a senior Indian diplomat over the alleged involvement of Indian intelligence agencies in the killing of a Sikh separatist leader in Canada. Hardeep Singh Nijjar, who was wanted by India for his role in the Khalistan movement, was shot dead outside a gurdwara in Surrey, British Columbia, on June 18, 2023.
Nijjar was the chief of the Khalistan Tiger Force (KTF), a banned militant group that seeks to create an independent state for Sikhs in the Punjab region of India and Pakistan. He was accused by India of masterminding several terrorist attacks in Punjab, including the attempted murder of a Hindu priest in Jalandhar in 2022. The National Investigation Agency (NIA) of India had announced a reward of Rs 10 lakh for his arrest.
However, Canada has claimed that Nijjar was a Canadian citizen and a victim of a targeted assassination by Indian agents. Canadian Prime Minister Justin Trudeau said that his security agencies are actively investigating a possible link between Indian government agents and Nijjar's murder. He said that he had raised this issue with Indian Prime Minister Narendra Modi at the G20 summit last week and urged him to cooperate with Canada to get to the bottom of this matter.
Trudeau also said that he had expressed his concerns to US President Joe Biden about the alleged interference of India in Canada's internal affairs. He said that Canada is committed to protecting the rights and freedoms of its citizens, including those of the Sikh community, which constitutes about 1.5% of Canada's population.
Canada's Foreign Minister Melanie Jolie announced on Monday that she had expelled the Indian intelligence chief in Canada, whom she did not name, for violating Canada's sovereignty and the basic norms of diplomatic conduct. She said that this was a serious matter and Canada would not tolerate any foreign interference in its domestic affairs. She also said that Trudeau had personally conveyed this message to Modi in no uncertain terms.
India has strongly denied any involvement in Nijjar's murder and condemned Canada's action as unwarranted and unjustified. India's Ministry of External Affairs (MEA) said that it was deeply disappointed by Canada's decision to expel its diplomat without any evidence or due process. It said that Canada's allegations were baseless and motivated by political considerations. It also said that Canada was harboring anti-India elements who were inciting violence against Indian diplomats, damaging diplomatic premises, and threatening to desecrate the Indian community and their places of worship in Canada.
India also said that it had repeatedly raised its concerns about the activities of Khalistani separatists in Canada, who were seeking to revive a violent movement that had claimed thousands of lives in India in the 1980s and 1990s. It said that Canada had failed to take any action against these groups, who were openly advocating for Khalistan and glorifying terrorism. It said that Canada's support for these groups was detrimental to the bilateral relations between the two countries and the regional peace and stability.
The expulsion of the Indian diplomat has triggered a diplomatic crisis between India and Canada, which have longstanding ties based on shared values of democracy, pluralism, and people-to-people links. The two countries have also been working together on various issues such as trade, investment, energy, education, science and technology, and counter-terrorism. However, the recent developments have cast a shadow over their strategic partnership and raised questions about their mutual trust and cooperation.