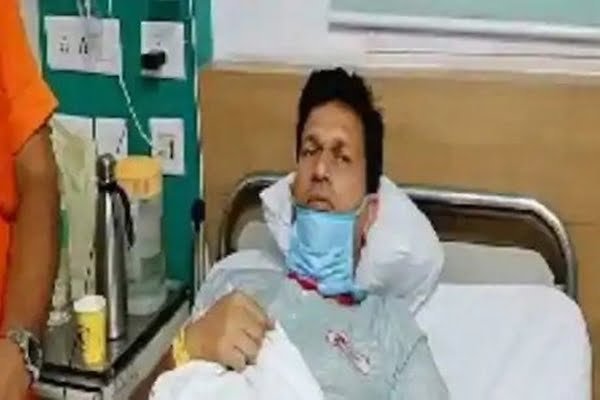 Kanpur: The truth of the attack on the police team on the night of July 3 in Vikru village of Chaubeypur police station area was finally revealed. According to the exclusive information received on News18, that night the police did not go for the Encounter's intention nor did they have sufficient amount of materials. At the same time, the infamous Vikas Dubey was ready. When the police team of three police stations proceeded on foot, standing 200 meters from his house, firing started from three sides as soon as he crossed the JCB. The policemen did not get a chance to recover in this sudden firing.
The police did not go with the preparations
Kaushalendra Pratap Singh, SO of Bithoor police station injured in this shootout told News18 what had happened that night? SO Kaushalendra admitted in the hospital said that there was a preparation to press at around 12:30 pm. He had his team with him, as well as the force of SO Vinay Tiwari of Chaubepur police station and the force of another police station. Apart from this, there were also COs. All the people got down at about 22 meters from the house and got towards the house at around 12:30. On the way, JCB was parked in such a way that no vehicle could get out. Only one passenger could walk at a time.
Vikas Dubey and his henchmen were watching the movement of the police
SO told that the lights were not burning properly there, due to which we could not see them. While they were watching us properly. As soon as I and my soldier Ajay Sengar crossed the JCB and went ahead, suddenly the bullet started. Soldier Sanger told that there was a bullet in his stomach. Giving the cover fire, I started taking it to a safe place. I must have shot four to five rounds in the meantime.
The police was not ready
SO Kaushalendra said that the police had not prepared for the encounter. Not everyone had real ones. He told that bullets were going on from three sides. According to estimates, about 15 people were shooting. From the speed with which the shot was being fired, it seems that they had semi-automatic weapons because single-shot weapons cannot shoot like this. Nothing was visible in the dark, so it is difficult to tell with whom the bullet was fired.
Kaushalendra, who was injured by three shots, also denied that SO Chaubepur was behind. He said that it is not so. Because of JCB, only one man could go forward at a time. I and my team went first. After that other people, but only then started firing, after which others along with SO Choubeepur and his team dispersed. They saved lives by taking cover of JCB. On how SO Bilhaur Devendra Kumar Mishra was shot, Kaushalendra said that it was dark, the firing was going on from three sides, so nothing showed.