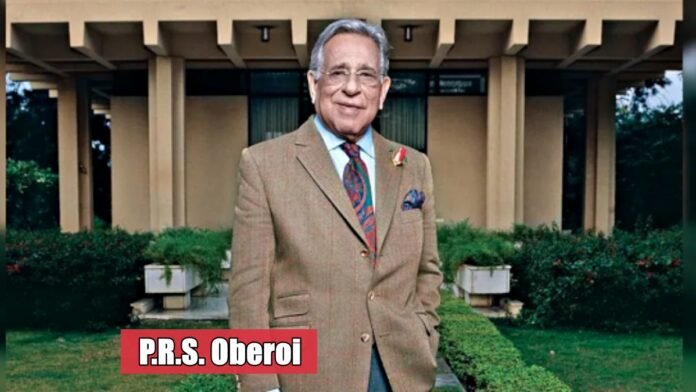 New Delhi: P.R.S. Oberoi, the chairman of the Oberoi Group and a legend in the hospitality industry passed away on Tuesday morning at the age of 94. He was known for his visionary leadership and innovation in the field of tourism and hospitality, and for expanding the Oberoi brand across the world.
Oberoi Group issued a statement announcing his demise and expressing their grief. "It is with great sadness that we have to inform you that Oberoi Group Chairman P.R.S. Oberoi passed away this morning. His legacy as a legend in the hospitality industry knows no bounds. He has left an indelible mark on the global landscape," the statement said.
Oberoi, who was popularly known as Biki, was born in Delhi in 1929. He was the son of the late Rai Bahadur M.S. Oberoi, the founder of 'The Oberoi Group'. He joined the family business in 1943 and became the executive chairman of EIH Limited, the flagship company of the group, in 1993. He was instrumental in establishing the Oberoi brand as a synonym for luxury and excellence in the hospitality sector.
He was also a pioneer in introducing new concepts and services in the industry, such as the 24-hour personal butler service, the Oberoi Spa, the Oberoi Experiences, and the Oberoi Centre of Learning and Development. He was also passionate about preserving the heritage and culture of India and supported various initiatives for the conservation and restoration of historical monuments and art.
Oberoi was widely recognized and honored for his remarkable contribution to the field of tourism and hospitality. He was awarded the Padma Vibhushan, the second-highest civilian award in India, in 2008. He also received many international awards, such as the Lifetime Achievement Award in the International Luxury Travel Market (ILTM) in 2010, the Corporate Hotelier of the World award by Hotels (Magazine) USA in 2008, the Lifetime Achievement Award at the 6th International Hotels Investment Forum in Berlin in 2004, and many others.
He also received several prestigious awards from the business and media fraternity, such as the Forbes India Leadership Award in 2011, the Economic Times Award for Corporate Excellence in 2006, the CNBC TV 18 India Business Leader Award in 2005, the Business India Magazine's Businessman of the Year in 2002, the Ernst & Young Entrepreneur of the Year Award in 2000, and many more.
The statement from the Oberoi Group said, "While mourning the loss of a brilliant man, we will remember his legacy. Information related to the tribute meeting will be shared soon." It also informed that the last rites will be performed on Tuesday at 4 pm at Bhagwanti Oberoi Charitable Trust (Oberoi Farm) in Kapashera, Delhi.