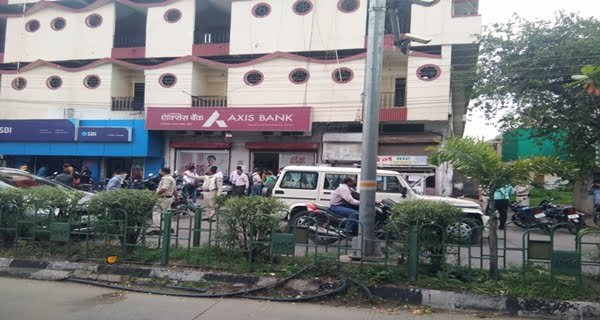 Indore: The day-to-day robbery of a bank was carried out under the city's Pardeshipura police station. The armed miscreants entered the bank in broad daylight and within a span of two to three minutes, they committed robbery of lakhs of rupees. All the crooks escaped from the bank after snatching money from the cashier. Police were informed after the miscreants ran away from the bank, after which the police reached the spot.

Robbery at Axis Bank branch
This sensational incident has been carried out in broad daylight in Axis Bank branch under Pardeshipura police station. When the miscreants entered the bank, there were also common people in the bank, but the miscreants silenced everyone by threatening to kill them and escaped by robbing the cashier about 5 lakh 34 thousand rupees at the point of pistol. As the miscreants fled the bank and the bank's staff informed the police. As soon as the robbery incident was detected in the bank, the police immediately reached the spot and started the search for the miscreants by blocking the area. CCTV footage of the bank is also being scrutinized.
4 to 6 miscreants
The number of miscreants who carried out this robbery incident in broad daylight is being reported from 4 to 6. According to eyewitnesses, before entering the bank, the miscreants first took the guard hostage at the point of the pistol and then entered the bank. A crook had a pistol in his hand and a crook with a knife. After entering the bank, the miscreants threatened people that they would kill themselves if someone made a noise. Due to fear, the people fell silent and meanwhile one of the miscreants snatched millions of rupees from the cashier and then escaped. It is also being told that two crooks came from Scooty and the other crooks escaped on foot. The robbery bank has committed this robbery incident within just two to three minutes. The miscreant rushed directly to the cashier and fled with a bag full of money. It is clear that the miscreants had raked all over. Senior police officers rushed to the bank as soon as the information was received and started investigating the case.