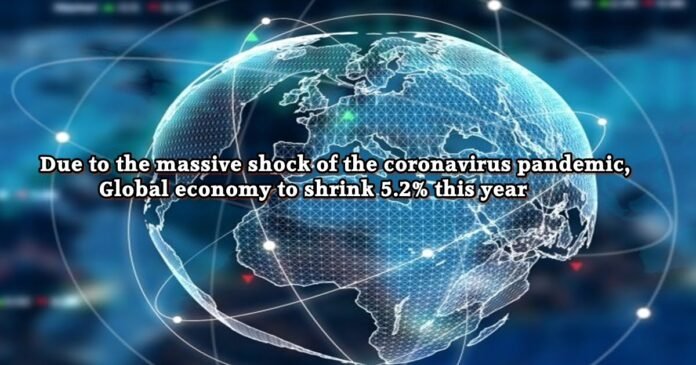 Washington: The global economy, which has plunged into a severe contraction, will shrink by 5.2 percent this year due to the massive shock of the coronavirus pandemic and the shutdown measures to contain it, the World Bank said yesterday. The coronavirus recession is the first since 1870 to be triggered solely by a pandemic, World Bank President David Malpass said in his foreword to the latest edition of the Global Economic Prospect report released in Washington Yesterday.
According to the report, economic activity among advanced economies is anticipated to shrink by seven per cent in 2020 as domestic demand and supply, trade and finance have been severely disrupted.
Emerging Markets and Developing Economies (EMDEs) are expected to shrink by 2.5 percent this year, their first contraction as a group in at least 60 years, it said. Per capita incomes are expected to decline by 3.6 percent, which will tip millions of people into extreme poverty this year, according to the report.
According to World Bank President Malpass, beyond the staggering economic impacts, the pandemic will also have severe and long-lasting socio-economic impacts that may well weaken long-term growth prospects the plunge in investment because of elevated uncertainty, the erosion of human capital from the legions of unemployed and the potential for ruptures of trade and supply linkages.
The current projections suggest that the coronavirus recession will involve a decline in global per capita Gross Domestic Product (GDP) by 6.2 percent, making it the deepest global recession since 1945-46, and more than twice as deep as the recession associated with the global financial crisis, the report said.
Current forecasts suggest that in 2020, the highest share of economies will experience contractions in annual per capita GDP since 1870, it said.