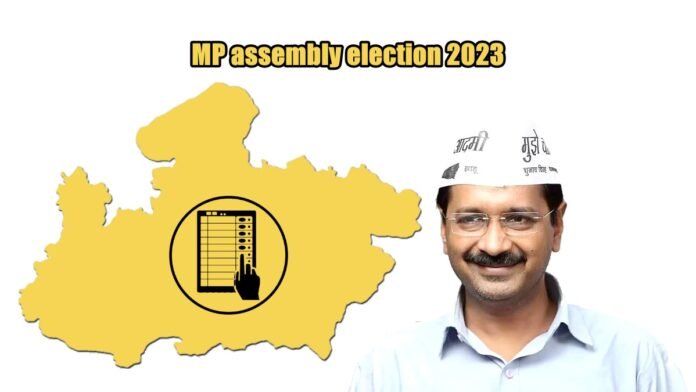 Bhopal: The Aam Aadmi Party (AAP) is a relatively new entrant in the political scene of Madhya Pradesh, a state that has been dominated by the Bharatiya Janata Party (BJP) and Congress for decades. The AAP, led by Delhi Chief Minister Arvind Kejriwal, has been trying to make inroads in the state by contesting in local body elections and attracting leaders from other parties.
The AAP made its presence felt in the recently concluded urban body polls in Madhya Pradesh, where it won one mayoral seat in Singrauli and several councilor seats in other municipalities and councils. The AAP also performed well in some rural body polls, winning a few district panchayat seats. The AAP claimed that it has emerged as a serious alternative to the BJP and the Congress in the state and that it will contest all 230 assembly seats in the 2023 elections.
The AAP also received a boost when former Congress minister Akhand Pratap Singh Yadav joined the party in June 2023. Yadav, who had served as a minister in the Kamal Nath government, said that he was impressed by Kejriwal's model of governance and development. He also accused the Congress of being directionless and corrupt. The AAP welcomed Yadav and said that he will strengthen the party's presence in Madhya Pradesh.
However, the AAP also faces several challenges in expanding its base and influence in Madhya Pradesh. The party lacks a strong organizational structure and a popular face in the state. The party also has to contend with the established vote banks and loyal supporters of the BJP and the Congress, who have been ruling the state alternately since 1993. The party also has to deal with the competition from other smaller parties such as the Bahujan Samaj Party (BSP), the Samajwadi Party (SP), the All India Majlis-e-Ittehadul Muslimeen (AIMIM), and the Samanya Pichhda Evam Alpsankhyak Varg Adhikari Karmchari Sangh (SAPAKS), who may cut into its potential votes.
Therefore, it is difficult to predict the future of the political party AAP in Madhya Pradesh with certainty. The party may be able to make some dent in the vote share of the BJP and the Congress, but it may not be able to win many seats or form a government on its own. The party may also play a role of a kingmaker or a spoiler, depending on how close or polarised the contest is between the BJP and the Congress. The party may also have to forge alliances or understandings with other parties to increase its chances of success.