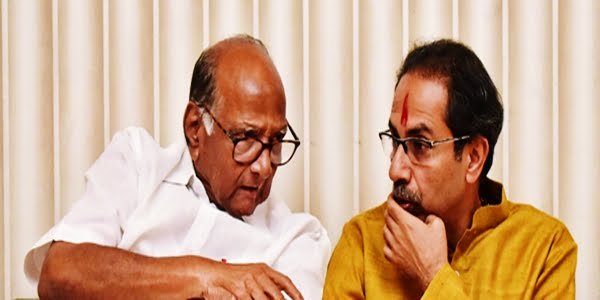 Mumbai: In the midst of the political turmoil in Rajasthan, Nationalist Congress Party chief Sharad Pawar has met Chief Minister Uddhav Thackeray. According to sources, there was a discussion between the two leaders about the heated politics in Rajasthan. In Maharashtra, there was a discussion to prevent such situations from happening and to keep a close watch on his party MLAs.
It is worth noting that some leaders of the Bharatiya Janata Party in Maharashtra have been talking about some surprising events in October. If sources are to be believed, Pawar and CM Uddhav Thackeray have been alerted to what is going on in Rajasthan. Pawar went directly to meet CM Uddhav to save Mahavikas Aghadi from drowning. Where the two leaders talked about keeping an eye on their MLAs and maintaining good relations between allies (NCP-Congress-Shiv Sena).
The special thing is that Sharad Pawar has told Sanjay Raut, the executive editor of Shiv Sena mouthpiece 'Saamana' in his interview that there needs to be more interaction between the allied parties in the coalition government in Maharashtra.
In the last few days, there has also been differences between the Mahavikas Aghadi government of Maharashtra. He has spoken about the Congress not getting preference in various matters, that although we are together in the coalition, we cannot take a decision even while in the government. However, Pawar and CM rejected this saying that the government I have no bad feelings, everything is going well.