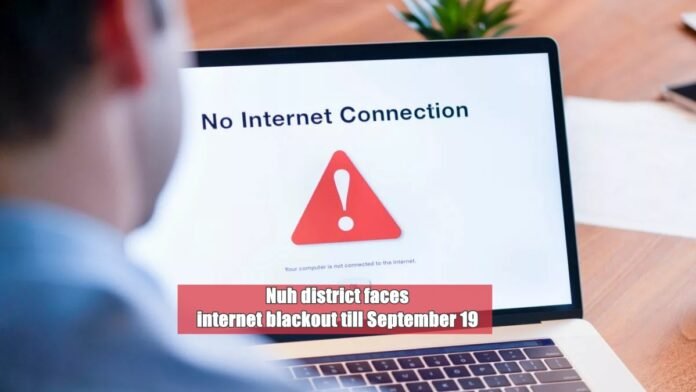 Nuh: The Nuh district of Haryana continues to witness unrest and violence after the communal clashes that took place on July 31. To prevent the situation from escalating further, the state government has ordered to suspend internet services in the district till September 19. The order was issued by Home Department Secretary TVSN Prasad on Friday.
According to the order, all mobile internet services, including 2G, 3G, 4G, 5G, CDMA and GPRS, will be banned in the district. All SMS services will also be prohibited, except for banking and mobile recharge purposes. The order will be effective from 6 pm on September 17 to 12 midnight on September 19, 2023.
The government said that the decision to impose an internet blackout was taken to prevent the spread of rumours, misinformation and inflammatory messages that could incite violence, agitation, damage to public and private property and disturbance in the district. The government also said that it was necessary to maintain public order and peace in the district.
Meanwhile, security arrangements have also been tightened in Nuh to ensure law and order. Additional police forces have been deployed in sensitive areas and patrolling has been intensified. The police have also appealed to the people to maintain calm and harmony and not to pay attention to any rumours.
Congress MLA sent to judicial custody
In a related development, Congress MLA from Ferozepur Jhirka, Mamman Khan, who is accused of instigating the Nuh violence, was produced in a court on Sunday after his police remand ended. The court sent Khan to judicial custody in three cases related to the violence. However, in another case, the court extended his remand to the Special Investigation Team (SIT) by two more days for further interrogation.
Khan was arrested by the SIT on September 15 after the Haryana government told the Punjab and Haryana High Court that he was named as an accused in an FIR lodged after the Nuh violence. The government claimed that it had phone call records and other evidence against Khan. Khan had approached the High Court seeking anticipatory bail, but the court refused to grant him any relief and asked him to approach the lower court. The next date of hearing in this case in the High Court is October 19.
The Nuh violence erupted on July 31 when a procession led by Vishva Hindu Parishad was attacked by mobs in Nuh. Six people were killed in the violence, most of them during the attack. A cleric also died in an attack on a mosque in neighbouring Gurugram.