New Delhi: Rapid work is being done by the central government in the development of infrastructure in the border areas. For this, all kinds of strategically necessary development including roads, and bridges are being taken forward at a fast pace. In this episode, the Nyoma airfield located at an altitude of 13 thousand feet near the Line of Actual Control (LAC) in Ladakh is being prepared for fighter jets. India is now preparing to upgrade the important Nyoma Advance Landing Ground (ALG) in eastern Ladakh to compete with China.
Let us tell you that during the ongoing confrontation for about 33 months, China is busy strengthening all the border military bases. Nyoma airbase is being upgraded at a cost of Rs 230 crore, in which a 2.7 km runway will be extended. The Times of India quoted defense officials as saying that work on the Nyoma airfield would start from the month of May. The Nyoma ALG is located at an altitude of over 13,400 feet, and less than 50 kilometers from the Line of Actual Control (LAC) with China, hence the task has been assigned to the Border Roads Organization (BRO).
The upgraded advance landing of the airbase will be ready for the operation of fighter jets in two years. An official said that Nyoma airbase will be upgraded by 2025. Let us tell you that Nyoma has already been a main center for the Indian Air Force and the Army, which eliminates the important gap between the Leh airfield and the LAC, about 190 km away. It has been used extensively for the advanced deployment of troops and heavy weapon systems such as tanks since several Chinese incursions in eastern Ladakh in April-May 2020.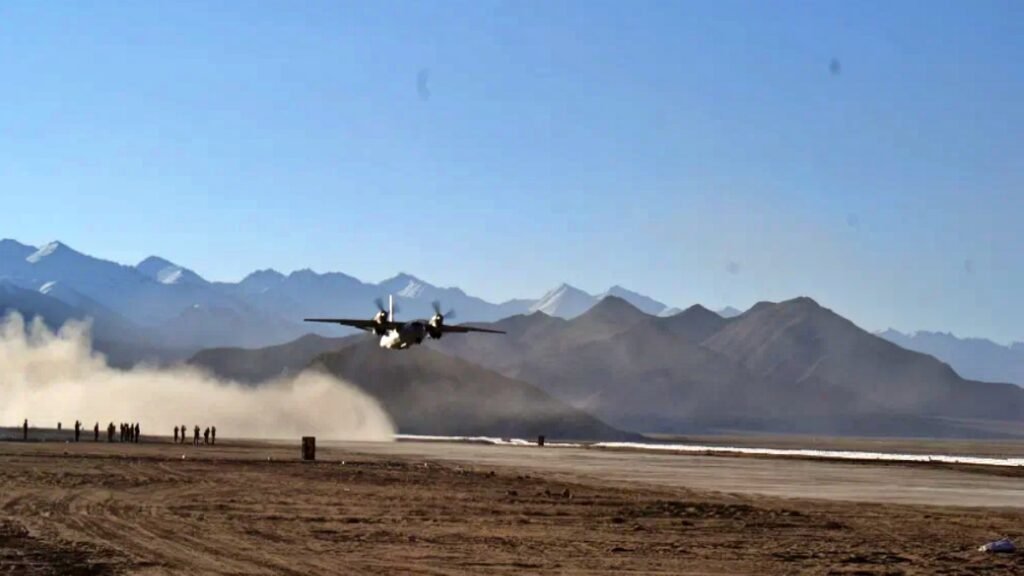 After the Nyoma airbase is fully prepared, many big fighter jets can be landed on it. At present, the Nyoma Advanced Landing of Nyoma airbase operates Apache helicopters, Chinook heavy-lift helicopters, Mi-17 helicopters, and C-130 DE special operations aircraft. Nyoma Air Base has been used for the supply of troops and military materials.
After the upgrade of this airbase, fighter jets like Tejas, and Mirage-2000 will be able to fly from here, which will increase the air operation capacity in Nyoma. Apart from this, by reducing the distance of 180 kilometers between Nyoma Advanced Landing Ground and Leh, it will be easier to deliver military goods.