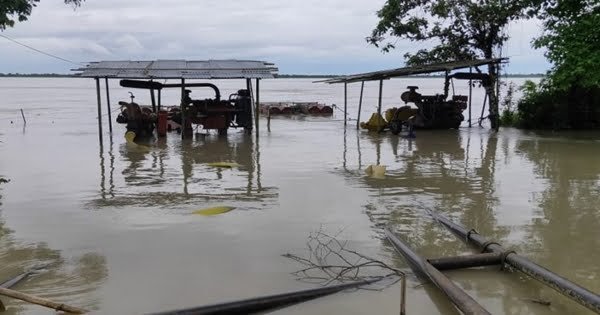 Guwahati: The flood situation in Assam on Saturday became more severe. Two more people have died in the state. At the same time, all the works to extinguish the fire in the damaged gas well in Bagajan have been postponed because the flood water has entered there. Officials said floodwaters have entered 21 districts of the state, affecting more than 4.6 lakh people. For the last 32 days, uncontrolled leakage of gas has been occurring from the good number five located in Bagajan in the Tinsukia district. The well was engulfed in flames on May 27 after an explosion and two Oil India Limited personnel were killed. The company said that the water level in all the rivers in and around Bagajan is increasing rapidly.
The Dangori river is in spate and the pump installed above the well to douse the fire has submerged in its water. According to the Assam State Disaster Management Authority (ASDMA) daily flood report, two people died due to floodwaters in Balijana and Matia in the Gowalpara district. At least 16 people have died in the state so far. Dhemaji is the most affected district in the state followed by Tinsukia, Nalbari district which has also been badly affected by the floods. ASDMA said that due to floods in other districts including Dhemaji, Lakhimpur, Biswanath, Udalguri, Darang, Baksa, Nalbari, Chirang, Gowalpara, Kamrup, Kokrajhar, Barpeta, Nagaon, Golaghat, Jorhat, Majuli, Sivasagar, Dibrugarh and Tinsukia, 4.6 lakhs More people have been affected.
According to the bulletin, during the last 24 hours, the administration took 261 people to safe places in the three districts. The ASDMA said that the city of Dibrugarh has been submerged in water for the last four days due to continuing rains. Floods have damaged the crop in 37,313.46 hectares. The ASDMA said that the district departments have established 132 relief camps and distribution centers in 10 districts, where 19,496 people have lived.