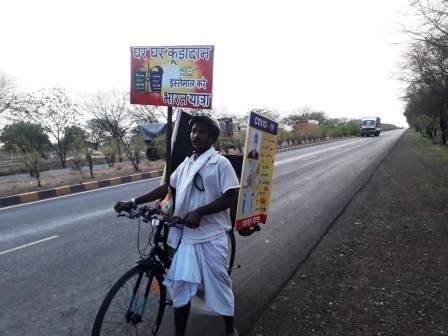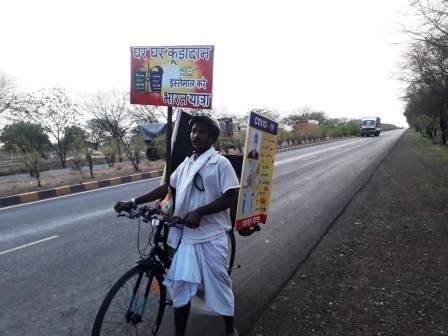 Neemuch(MP). Resolve and passion is the power of human beings that makes any rare or impossible possible. Such resolve power is often seen in the blood of our country. On the basis of which they do not miss the path of execution or the execution of the work.
One such resolution has been taken by Luisadas, a young man living in Pilot Baba Ashram Haridwar, who, with the aim of spreading the awareness of Swachh Bharat Mission among the masses, has traveled a cycle for 9 months, giving awareness message and traveling 15 thousand kilometers Neemuch has arrived after fixing it. After entering Neemuch in Rajasthan, after Delhi, Punjab, Jammu and Kashmir, Ladakh, it will reach its Haridwar Ashram again.
With the Swachh Bharat Mission Awareness Message, the youth who went on a cycle trip said that today cleanliness is the responsibility of every household for the healthy body of our countrymen. Whether dirty house or road should not spread anywhere. Our Prime Minister Narendra Modi's campaign of Swachh Bharat has impressed me so much that I too can continue to participate in realizing the dream of dirty free India.
Under this inspiration, on 30 October 2019, I did Shri Ganesh from Haridwar with the permission of my Guru Mahamandaleshwar Siddharth Giri Maharaj. It may take me 3 more months to complete this journey. I am traveling 80 to 90 km daily. During the journey, I am receiving the support and affection of people everywhere. The expenses of my journey are being borne by my Guru Siddhartha, who is giving me his blessings and the experiences that I have experienced during this journey are going to give strength to my resolve.
The Corona epidemic that occurred in the country during the journey has increased the importance of Swachh Bharat Mission and added it to the imperative of every person. With this in mind, my journey is giving awareness message to the students, girls, street mohallas etc. so that my contribution under Swachh Bharat Mission can make people come out of carelessness and realize the dream of cleanliness in the country.
I have pledged to give awareness message in 28 states including Union Territory. 9 states is remaining and now we have to reach there. I was in Maharashtra during the Corona epidemic where I stopped my journey due to lockdown and self-quarantined myself in a hotel in Pune for two months.