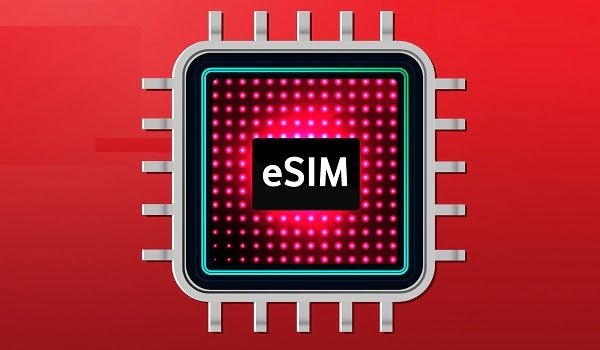 After Reliance Jio and Airtel, now Vodafone Idea has also launched its eSIM service in India. At present, this service has been brought only for the postpaid customers of the company present in Delhi, Gujarat and Mumbai circles. Initially, only iPhone users will be able to use Vodafone Idea's e-SIM.
Many companies across the world are offering eSIM service to their users. With the help of this service, you will be able to use the number without placing a physical SIM card in the phone. Vodafone Idea has also brought this service for postpaid users in India.
Vodafone Idea's e-SIM support, which includes iPhone models, iPhone 11, iPhone 11 Pro, iPhone 11 Pro Max, iPhone SE (2020), iPhone XS, iPhone XS Max and iPhone XR etc. Soon its support will also be found on Samsung Galaxy Z Flip and Samsung Galaxy Fold.
If you are already a subscriber to Vodafone Idea and you have an iPhone from any of the above mentioned iPhone models, then you can use E-SIM. For E-SIM, you only have to do one message. For this, you have to send "eSIM email id" to 199. After e-mail ID is validated, you will get a message from 199 on your number, after which you will have to reply to that message by writing "ESIMY". You will get a QR code on the email ID and after scanning it, you will be able to activate the e-SIM. During this time the phone must be connected to Wi-Fi or mobile data and your eSIM will be set up.
What is an e-SIM?
The term "e-SIM" simply means an embedded SIM card. There are no physical SIM cards involved and no physical swapping over required by you. eSIM needs to be supported by the network or carrier and enabled by them and not all networks support eSIM as yet.
An e-SIM is basically a small chip inside your phone and works in a similar way to the NFC chip that's used for payment tech like Apple Pay and Google Pay.
The information on an eSIM is rewritable, meaning you can decide to change your operator with a simple phone call. They're really easy to add to a data plan – connecting devices with eSIMs to a mobile account can be done in minutes. And, as we mentioned, it was
eSIM is backed by the GSMA, the association of mobile networks and that organisation has defined the standard for eSIM worldwide.