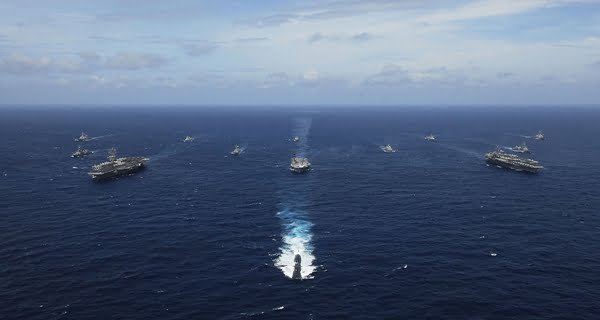 Washington: Four major powers are ready to come together in Malabar for the first time to stop China in trouble in the Pacific as well as in the Indian Ocean. Australia may soon be invited to India for this year's Malabar naval maneuvers. With this, for the first time, the informally formed Quad group will be seen on the military stage. This includes Japan and the United States along with India and Australia. Till now, India had kept Australia out of it, but in view of China's action on the border in Ladakh, there is a plan to call it as well.

According to a Bloomberg report, the proposal for a formal invitation to Australia could be sealed by next week. Malabar previously used to be a limited naval maneuver but is now an important part of the Indo-Pacific strategy. Under this, a major goal is to stop China's move in the Indian Ocean. Japan joined it in 2015.

China will get a strong message
India stopped Australia from joining it in 2017, thinking that Beijing might see it as a military extension of the Quad, but India eventually tightened its stance, given the heightened border tension and China's aggressive attitude. is. The report quoted Derek Grossman of the Washington-based RAND Corporation as saying, "This will send an important message to China that the Quad is actually conducting joint naval exercises." Even if it is not technically organized as a Quad event.
Support of regional and global forces necessary for India
Prior to the violence in Ladakh, India tried to balance its relations with its largest trade partner China and on the other hand also strengthened relations with countries like the US. In the report, the High Commissioner of India to Pakistan G. Parthasarthy has said, "Our bilateral economic sanctions on China are necessary, but we need to remember that China can only be affected if we work in cooperation with regional and global forces."
A stockpile of laser weapons is on the rise
The test was announced by the Navy's Pacific Fleet. Earlier in the year, China's Navy Destroyer targeted the US's Maritime Petrol aircraft with laser beams. Peterkin said during a podcast on Tuesday that a golden period is underway for cooperation in the field of Directed Energy and that all branches of the military are working on ways to deploy laser weapons and increase their power. However, many in the Pentagon still consider Direct Energy Weapons to be science fiction. On this, Peterkin says that those who go to war will be confident when they try, use, and use these weapons.

The ODIN will be used to shoot down a missile or aircraft in the air, but also to create a blockage in the system of a drone or missile coming from a laser beam through a 'dazzle'. Peterkin says ODINs can be mounted on Flight II Arleigh Burke-class warships such as Dewey, San Antonio-class Transport Dock, and Littoral warships. The deployment of lasers on aircraft ships is also being discussed.

Challenge from Iran and China
The Navy is also focusing on drones and missiles. With the help of unmanned aircraft, Iran's military has come close to the US naval fleet and carries dangerous anti-ship missiles. At the same time, China has long-range anti-ship missiles in the Pacific, which poses a big threat to the US fleet. Peterkin says the Navy is also working on high-energy Laser and Surveillance (HELIOS) and Laser Weapons System Demonstrator (LWSD) with integrated optical-dazzler that can intercept the missile. Both will be 150 kW.
Also the ability to shoot
Earlier in May, the USS Portland dock ship was seen doing laser testing. Use of first system-level high-energy class solid-state lasers