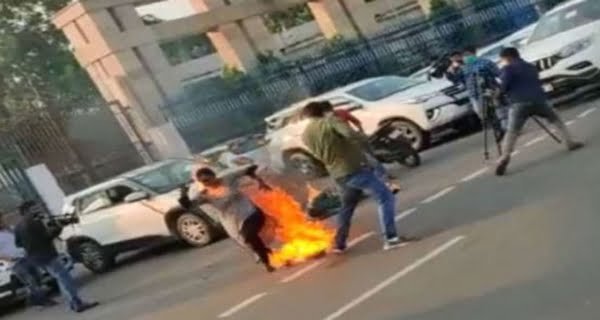 Lucknow: In a heartbreaking incident, on Friday, July 16, a woman and her daughter in Amethi district tried to commit suicide outside Gate No. 3 of Chief Minister's Office in Hazratganj area of ​​Lucknow. According to reports, both of them have been admitted to the civil hospital. It has been alleged on behalf of the woman that for the last one month she has been circling various police officers, but she is not being heard due to which she had to do it.
According to reports, the victim woman Gudiya of Jamai, Amethi, along with her daughter, suddenly set herself on fire outside Lok Bhavan. In this incident, where the mother has burnt 80% while her daughter has burnt 40%. Right now the situation of the said woman is said to be serious.
The allegation of the said woman was that she was beaten fiercely by the bullies over a drain dispute in Amethi. Not only this, even after writing FIR, these bullies beat him up in Thane also. The woman also alleged that these people threatened to kill her, while the unhappy mother-daughter reached Lucknow on Friday and tried to plead with the Chief Minister for not hearing.
Now the victim, whose name is Gudiya, said that "there is no hearing even from a minor drain dispute." We wrote the complaint. Even after that there is no hearing. The domineering are constantly threatening us. The bullies beat us up. Despite that, action is not being taken. " To this, Additional DCP Central Chiranjeev Sinha said that "these two women who attempted self-immolation were immediately rescued by the police and taken to the civil hospital for treatment." He told that Hazratganj police had also reached outside Lok Bhavan (CM office) to investigate the matter.
On this incident, former Chief Minister and SP chief Akhilesh Yadav also surrounded the Yogi government and said that "There is sad news in front of the Lok Bhavan in Lucknow that the two women have committed self-immolation, because of no action against the bullies. The SP had built Lok Bhavan so that the general public can go there for redressal of their grievances without discrimination, but there is no hearing for the poor in this BJP government. " The investigation of the case continues till the news is written.