Gandhinagar: The group of innovators from Gujarat Technological University, GTU has come up with a unique hand sanitizer bands- called G Bands using Thermoplastic elastomers. These bands can be used on the go for sanitizing hands just by pressing it.
During the Coronavirus pandemic, keeping hands sanitised has become a new necessity, the G Bands offer a convenient option for people to maintain hand hygiene.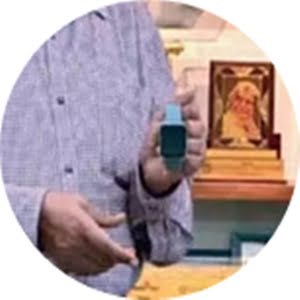 The alumni of 2010 batch of GTU Sarthak Baxi, Kartik Sheladiya, Sagar Thakkar, Karan Patel and Jagrut Dave thought of a product that can replace a sanitizer spray or bottle while going out. So they came up with refillable and wearable G Bands. Talking to press, Kartik Baxi said one dose of liquid sanitizer once filled in G Bands, can be sprayed for more than 20 times in a day.
Vice-Chancellor of GTU Dr Navin Sheth said, apart from the G Bands, the innovators from GTU have come with a range of innovative products in the wake of COVID-19 pandemic.
The product is priced at 299 rupees and will soon be available for a larger public. It has also been filed for the patent.