Kolkata: Amidst the ongoing uproar in the BJP's state unit after the defeat in the West Bengal Assembly elections, a protest against party national general secretary Kailash Vijayvargiya for 'go back' outside the BJP office in Kolkata on Friday. Posters were found. The posters at the party's state headquarters on Central Avenue and another important BJP office in Hastings have a picture of Vijayvargiya, the BJP's in-charge for West Bengal, describing him as the 'setting master'.
Some of the posters showed a hug while hugging Vijayvargiya and Mukul Roy, who returned to the Trinamool Congress party earlier this month after being in the BJP for nearly three-and-a-half years. Mukul Roy was once the second tallest leader in the Trinamool Congress after Chief Minister Mamata Banerjee. However, later BJP workers removed these posters.
Holding the Trinamool Congress responsible for the incident, senior BJP leader Rahul Sinha said, "Trinamool is responsible for this. They want to create confusion among us. However, Trinamool Congress states-general secretary Kunal Ghosh rubbished the allegations and termed them as "baseless". "The BJP in West Bengal is going through a phase of internal conflict and there is a conflict between the old leaders and the newcomers in the party. This incident is the result of that.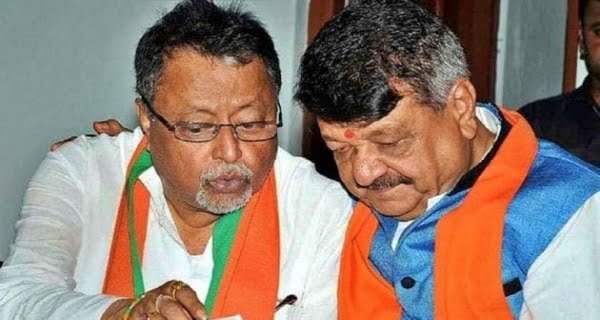 It is worth mentioning that senior BJP leader Tathagata Roy had in the past publicly blamed excessive interference by other state leaders like Vijayvargiya for their poor performance in the assembly elections. It is believed that Vijayvargiya was close to Mukul Roy and it was he who brought him into the party. According to state BJP sources, several district units and several leaders have demanded Vijayvargiya's removal from the post of in-charge of West Bengal.