Chandigarh: The bill related to reservation in private jobs has been approved in Haryana. Under this, now 75 percent reservation in private jobs will also be done. Haryana Chief Minister Manohar Lal Khattar gave information in this regard. CM Khattar told that the bill has been approved by Governor Satyadev Narayan Arya. With the approval of the governor, the state government has also issued its notification. It is said that there was a long discussion about reservation in private jobs.
According to the information, this law will now be applicable on jobs up to 50 thousand rupees per month salary. On the other hand, if a company does not accept the law related to reservation, then they will also be fined. This law will apply to all private companies, firms and trusts.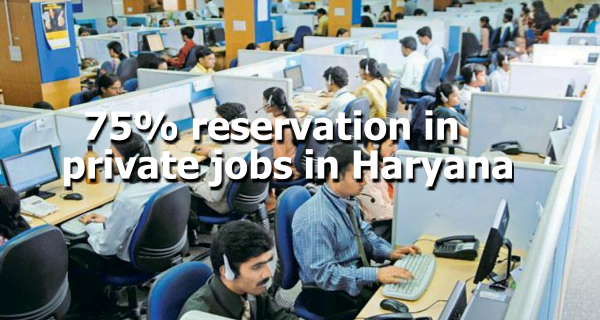 Who will apply and who will benefit
Reservation legislation will have to be adopted by all private companies, societies, trusts, and firms operating in Haryana. All these will be institutions where more than ten people are working. This law will be considered applicable to jobs up to 50 thousand rupees per month. All the companies will have to inform the government in three months how many posts of monthly salary of Rs 50 thousand are there in their office and how many local people of Haryana are working on it. Domicile holders will get the direct benefit of this law.
Will not be able to keep new people
Until this information is given to the government, now private companies will not be able to recruit new employees. However, according to the law, if the owners of the company want, then they can also ban the recruitment of more than ten percent people from one district.
Provision of exemption also
If the company does not get experienced employees for a post, then there is also a provision for relaxation in the reservation law. However, for this the company will have to take permission from the District Deputy Commissioner or higher officials. Along with implementing the law, companies will also have to submit a status report to the government every three months. The SDM and higher officer will have the rights to investigate the implementation of the law and they will also be able to visit the company premises. At the same time, this law will be applicable for the next ten years.