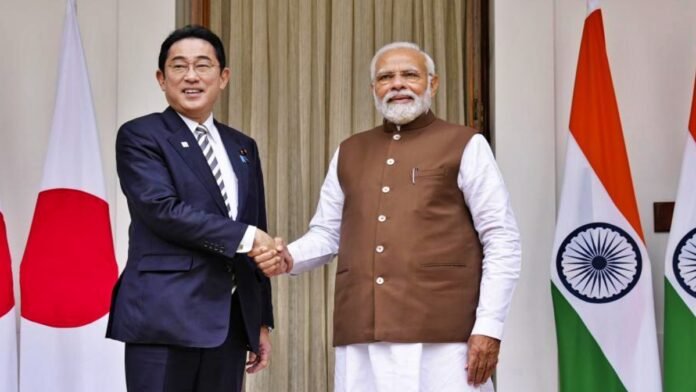 New Delhi: Prime Minister Narendra Modi on Monday said after wide-ranging talks with his Japanese counterpart Fumio Kishida that the India-Japan global partnership is based on shared democratic values and respect for the rule of law. and promotes peace and stability in the Indo-Pacific. The Prime Ministers of the two countries emphasized finding ways to deal with regional security challenges amid China's growing military assertiveness, with a focus on expanding cooperation primarily in the areas of clean energy, semiconductors, and co-development of military equipment.
Officials said that during the talks, Modi told Kishida that one of the areas of very strong cooperation between India and Japan could be co-innovation, co-design, and co-manufacture in the defense manufacturing sector. Modi and Kishida resolved to work together to address global challenges under India's presidency of the G20 and Japan's presidency of the G7 grouping. Kishida had come to India only for 27 hours.
Kishida said he invited Modi to the G-7 summit in Hiroshima in May and the offer was immediately accepted. Apart from the talks, a 'note' between the two sides&8217; was exchanged regarding the provision of the fourth tranche of the Japanese loan of 300 billion yen (about Rs 18,000 crore) for the Mumbai-Ahmedabad high-speed rail. In his media statement, Modi said, "The India-Japan Special Strategic and Global Partnership is based on our shared democratic values and respect for the rule of law in the international arena.
He said, "Strengthening this partnership is not only important for both our countries, but it also promotes peace, prosperity, and stability in the Indo-Pacific region. In our conversation today, we reviewed the progress made in our bilateral relations.
The Japanese Prime Minister arrived in Delhi this morning on a brief visit amid global geopolitical turmoil over the Ukraine war and growing concerns about China's military assertiveness in the Indo-Pacific region.
Modi said he and Kishida exchanged views on defense equipment and technology cooperation, trade, health, and digital partnership. He said there was also a fruitful discussion on the importance of reliable supply chains in semiconductors and other critical technologies.
Modi said, "Last year, we had set a target of Japanese investment of five thousand billion yen in India in the next five years, that is Rs 3,20,000 crore. It is a matter of satisfaction that good progress has been made in this direction.
Modi said "tej" on the Mumbai-Ahmedabad high-speed rail project. Progress is happening. Modi said, "Our meeting today is special for another reason as well. This year India is chairing the G20 and Japan is chairing the G7. And so, this is the perfect opportunity to work together on our respective priorities and interests.
He explained to Kishida India's priorities for India's G20 chairmanship. In his remarks, Kishida said Tokyo's economic cooperation with New Delhi is growing rapidly and will not only support India's further development but also generate significant economic opportunities for Japan.
Briefing reporters, Foreign Secretary Vinay Kwatra said Modi and Kishida had substantive discussions in line with the depth of India-Japan ties, and the talks covered areas of defense and security, economic partnership, climate and energy, and people-to-people exchanges. and cooperation in the areas of skill development. Asked if the issue of challenges being faced by both the countries from the Chinese side figured in the talks, Kwatra indicated that the issue was discussed in the meeting.
Kwatra said, "Both the leaders talked about the challenges we are facing in the region. Also about how India and Japan and other like-minded countries can work together to address those challenges and cooperate in the broader Indo-Pacific.
Kwatra said Prime Minister Modi told Kishida that one of the areas of very strong cooperation between India and Japan could be co-innovation, co-design, and co-manufacture. The Foreign Secretary said that Prime Minister Modi made it clear to his Japanese counterpart that when it comes to private investment in defense and foreign direct investment, both sectors are completely open in India.
Kwatra said that Japanese companies are not only invited but also encouraged to tap the opportunities and advantages inherent in the Indian manufacturing ecosystem and that the Make-in-India initiative is not only for India but also for the rest of the world. He said that the two leaders also discussed important regional issues including the Indo-Pacific.