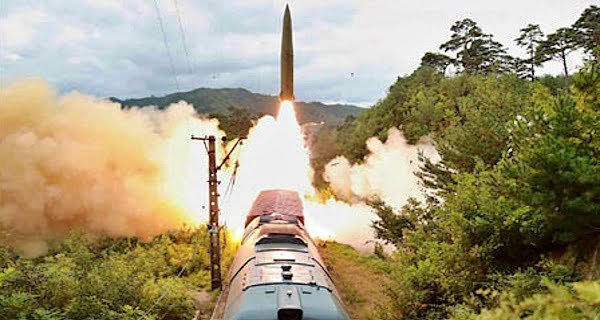 Seoul: North Korea said that it successfully launched ballistic missiles from a train for the first time. North Korea claimed this a day after arch-rivals South Korea and North Korea tested ballistic missiles on Wednesday in a display of their military might. All this is happening in the midst of efforts to exert diplomatic pressure on North Korea to give up its nuclear program.
Pyongyang's official Korean Central News Agency said the missiles, launched during an exercise by a missile regiment built on the train, accurately hit a sea target 800 kilometers (500 miles) away. In footage shown by state media, two separate missiles engulfed in orange flames are seen coming out of 'rail-car launchers' along the tracks in a dense forest. South Korea's presidential office said it had tested its first underwater target on Wednesday afternoon.
It said that an indigenously built missile was fired from a 3,000-ton class submarine and it covered a predetermined distance before hitting its intended target. Earlier, South Korea's military said on Wednesday that North Korea had tested two short-range ballistic missiles. On Monday, North Korea said it had tested a newly developed cruise missile for the first time in six months. Experts say North Korea's resumption of missile tests may be aimed at putting pressure on US President Joe Biden over nuclear talks.
South Korea generally does not make public information about its high-profile weapons tests because some experts believe it could unnecessarily provoke North Korea. Observers believe that Moon Jae-in's government may be responding to criticism that it has taken a too soft stance against North Korea.