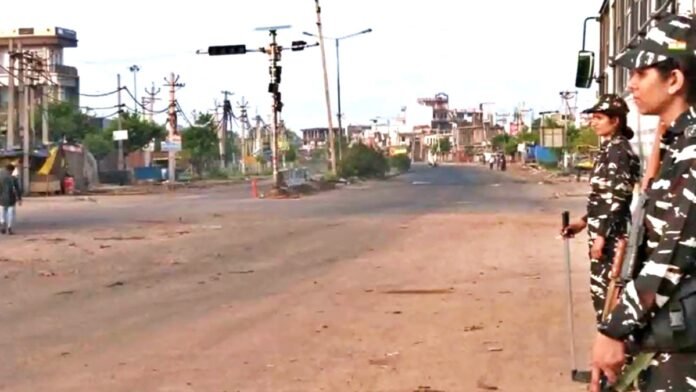 Nuh: On the one hand, the administration is currently on high alert regarding the violent clash between two communities in Haryana's Nuh. Whereas in view of this nuisance in the district, District Deputy Commissioner Prashant Panwar implemented section 144. Internet service is down here even today. In fact, the administration has taken this step to prevent any kind of rumor from spreading. At the same time, the death toll in the violent incident has now gone up to 5. At the same time, in view of this nuisance, now Rapid Action Force personnel have been deployed in the district. At the same time, the border of Rajasthan's Bharatpur, which is connected with Haryana, has also been sealed for the time being.
Here, the Haryana Police will now provide financial assistance of Rs 57 lakh to the families of two home guards of Gurugram who lost their lives in the violence in Nuh (Mewat). On Tuesday, a statement was issued by the Gurugram Police Commissioner saying that all kinds of assistance would be provided to the next of kin.
At the same time, the Gurugram Police has appealed to the people by tweeting that, we request the public not to worry. There have been some incidents of arson and clashes today, but nothing major. We have beefed up security in sensitive areas and are on alert to maintain peace. However, a flag march has been taken out by the Rapid Action Force (RAF) at Badshahpur in Gurgaon. Actually, this flag march has been taken out for peace in the area.
Here, giving information about the situation regarding this heinous incident of stone pelting and vehicles being set on fire on Vishwa Hindu Parishad's Brajmandal Jalabhishek Yatra, Gurugram's Deputy Commissioner Nishant Kumar Yadav said that Sadbhawna Committee has been formed in Sohna. . 21-21 people from both sides have been included in the committee. At the same time, the people involved in this committee have appealed for peace. The police force has been deployed in all sensitive areas to deal with the miscreants. Flag marches are being done. Overall, the situation is currently under control.
On the other hand, Haryana Chief Minister Manohar Lal Khattar held a meeting today regarding the situation arising in the Nuh district. During this, he said, the incident that happened in Nuh is very unfortunate. As soon as the incident was known, senior police officers and administration were immediately sent to the spot. A social yatra, which comes out every year, was attacked by some people, while the police were also targeted in it. The Yatra was disrupted in a well-planned and conspiratorial manner, which points to a larger conspiracy.