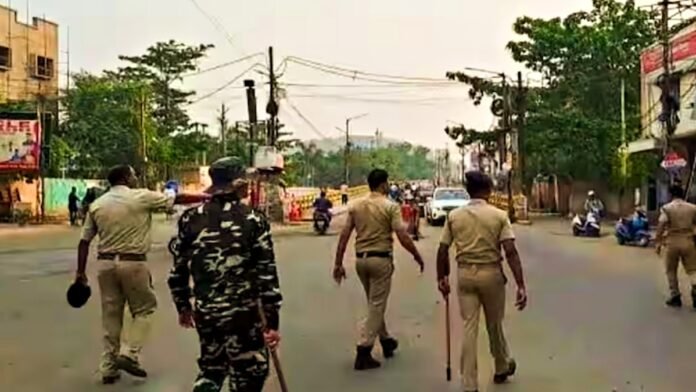 Imphal: The Imphal Valley in Manipur witnessed a tense calm on Friday, after a series of violent incidents, including an attempt to attack the ancestral house of Chief Minister N Biren Singh, which was vacant at the time. The authorities have relaxed the curfew in Imphal East and Imphal West districts from 5 a.m. to 11 p.m. to allow people to buy essential goods and medicines.
The official order said that the relaxation does not apply to "any unlawful assembly or movement of people on a large scale or demonstration"; But will not apply. The curfew was imposed on Wednesday after clashes broke out between security forces and protesters, mainly students, who were demanding justice for two Meitei students who were allegedly kidnapped and killed by Kuki militants in July.
The violence escalated on Thursday night when a mob tried to attack the ancestral house of the Chief Minister in the Hingang area of Imphal. A police officer said that the security forces fired tear gas shells and stopped the crowd about 100-150 meters away from the house. The Chief Minister lives in a separate official residence in the center of Imphal, which is heavily guarded by security personnel.
Several people were injured in clashes between security forces and protesters at various places in Imphal on Thursday night. At Hatta Minuthong in Imphal East, a rally turned violent when security personnel stopped the protesters from moving forward. Several people were injured in the incident and had to be admitted to a local hospital.
Officials said that a mob set fire to a house in the Chekon area of Imphal East late on Thursday night. Later firefighters brought the fire under control.
He said that protesters burnt tires and blocked roads with iron rods and stones in Wangkhei, Khurai, and Kongba in Imphal East district to disrupt the movement of security forces.
The Manipur government on Thursday constituted a committee to investigate complaints of alleged excessive use of force by security forces against protesters, according to an official order.
Appealing to the students to cooperate with law enforcement agencies in maintaining peace and restoring normalcy, the police said, "If any miscreant is found taking advantage of the current situation, the police will deal with them strictly.
The violence was triggered by the surfacing of photographs of the bodies of a boy and a girl missing since July on social media on Monday. The two students belonged to the Meitei community, which is the majority ethnic group in Manipur. They were allegedly kidnapped and killed by Kuki militants, who are one of the minority tribal groups in Manipur. A team of the Central Bureau of Investigation (CBI) is investigating the incident.
The ethnic violence has plunged Manipur into what many have dubbed a state of civil war as the two largest groups, the Meitei and Kuki-Zomi, battle over land and influence. According to local media, more than 130 people have been killed and 400 wounded in violence that began in May. More than 60,000 have been forced from their homes as the army, paramilitary forces, and police struggle to quell violence. Police armories have been looted, hundreds of churches and more than a dozen temples ruined, and villages destroyed. There have also been reports of rape and sexual assault being used as instruments of violence in conflict, which can often worsen into a spiral of revenge attacks.