Jashpur: A big accident happened in Jashpur today. Here the drug addicts drove a car full of ganja on the crowd. In this accident, 4 people died and 20 people were injured. One quintal of ganja was filled in the car. Enraged by the accident, people gheraoed the police station. Video of this entire incident has surfaced. Collector and SP have reached the spot as soon as the news is received. ASI has been suspended and the station in charge Santlal Dimension has been attached to the line. The 2 accused in the car have been caught.
This incident is from the Pathalgoan of Jashpur. Here people were taking out a moving ceremony of the tableau of Durga on Dussehra. At the same time, a speeding car came and ran over the crowd. The people in the car were Smackia. The car was filled with ganja. As the vehicle climbed over the crowd, there was chaos and a stampede in the running ceremony. The screaming started at some incident site. Four people died and 20 people were injured after being hit by a car.
Heart-wrenching video
A heart-wrenching video of this accident has surfaced. It is seen in this that people were going to sing bhajans in a peaceful manner by taking Durga Chal Ceremony. Just at that time a speeding vehicle suddenly entered the crowd and it trampled people like a bhaji. Everything was over before people could understand anything.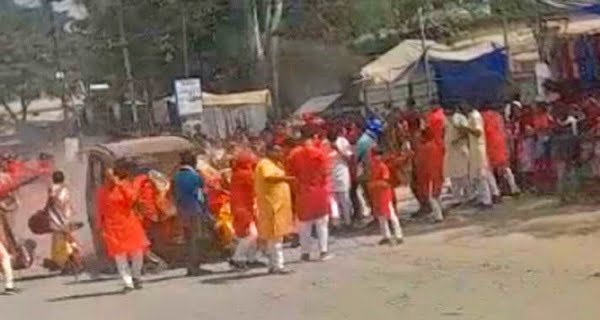 people on the street
People took to the road in protest against the incident and started protesting. These people surrounded the police station. The video of this entire incident has surfaced. As soon as the news was received, Collector Ritesh Agarwal and SP Vijay Aggarwal reached the accident site at Pathalgaon.
ASI suspended, station in-charge line attached
Collector and SP are discussing with the protesting people. ASI KK Sahu of Pathalgaon police station has been suspended by the SP with immediate effect. The line has been attached to the station in charge of Santlal Dimension. The entire incident will be investigated by forming a committee.