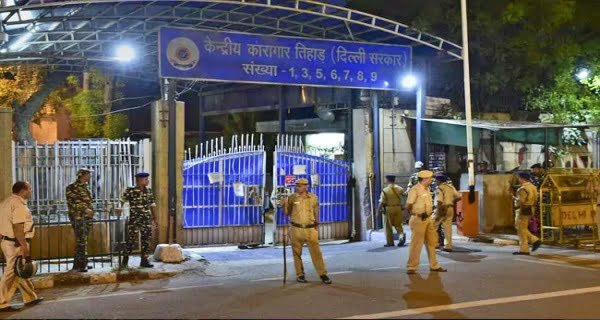 New Delhi: In Delhi's largest Tihar jail, 190 prisoners have got corona infection. Two of them have died due to corona. According to the information shared by the jail administration, a total of 190 prisoners have been infected in Tihar Jail so far. While 121 prisoners have recovered from the Corona. At present, the number of active cases in jails is 67. About jail staff, so far 304 jail staff has been infected, of which 293 have been cured, while 11 are still positive. These 11 jail staff also include jail superintendent Anita Dayal of Mandoli jail and two jail doctors.
The corona is spreading rapidly among the inmates of Tihar Jail. The situation is so serious that the number of prisoners and staff who have been infected with the corona within a week has increased by five times. A doctor from Tihar has also developed a corona. All the prisoners who come in contact with them have been quarantined. Tihar Jail officials said that in the three jails of Tihar, Rohini and Mandoli, the number of prisoners infected with Corona on the last Monday i.e. April 5 was 11. On this Monday it has increased to 59. They also include six jail staff and a doctor posted in Tihar Jail. It is said that initially, more cases of corona were reported in Jail number-2 here.
The number of prisoners in Tihar crossed 20 thousand
The jail administration said that the number of prisoners has already crossed 20 thousand. The situation should not be more serious. For this, oxygen level and temperature are being examined every day for all prisoners aged 60 years and above in all three jails. Apart from this, a center has been set up in Tihar Jail No-3 to install the Covid vaccine for all the prisoners aged 45 years and above. At present, no such center has been established in Rohini and Mandoli Jail. There is also an effort to start vaccination work.
Corona uncontrollable in Delhi
Please tell that the number of infected patients in Delhi has crossed 51 thousand. On Monday, the number of infected patients was 38,095, which has increased to 51,595 with 13,500 new patients as reported by Chief Minister Arvind Kejriwal on Tuesday. During the peak that occurred in November, only 8,500 cases were recorded during that period. Although the CM did not give the data of the recorded patients this afternoon.