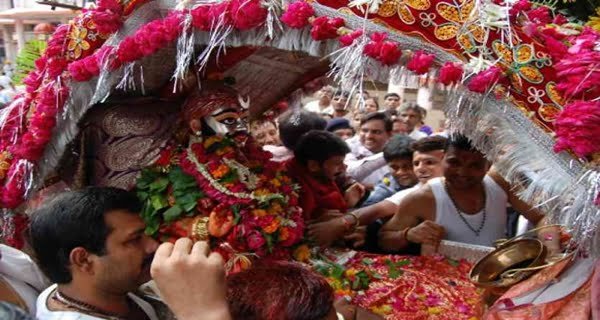 Ujjain: The corona has also had an impact on the worship of the world-famous Mahakal temple located in Ujjain. The royal ride of Baba Mahakal will be out in the spring, but devotees will not be able to attend it. Due to Corona, the district administration and the temple committee have banned the participation of devotees in the royal ride this time. Devotees can sit online and darshan online.
The effect of corona, which has created a mass in the city of Bholenath, is still intact. The temple remained closed to devotees during the lockdown. Now it is open, devotees are able to see here with full precaution and following the guide line. Sawan is about to arrive. There will be worship in the temple, but due to the corona, the brightness will not remain the same. The devotees will be able to see here by following the official guidelines. This effect will also be seen on Baba's royal ride. This time a ban has been imposed on the participation of devotees in Baba's royal ride, which leaves every Monday of Sawan and Bhad month.
70 dead so far
Ujjain was the third most infected city of Madhya Pradesh in Corona. Here 70 people have died from Corona. In such a situation, the administration does not want to take any offense. Every year, the Ujjain administration has made it clear that the devotees of Bhole will have to darshan at home.
First Monsoon Monday at 6
July 6 is the first Monday of the monsoon. Every year a large number of pilgrims arrive to see God in the ride. But this time it is important to take precaution due to Corona's beating. Social distance is most important in this. To avoid the crowds, the administration and the temple committee have decided to take a ride this time, following the guide line of the center.
Ride route review
Police and Municipal Corporation officials met with Ujjain Collector Ashish Singh and Commissioner Anand Sharma. Everyone inspected the route of the royal ride of Mahakal to be taken out in Sawan. The Ujjain collector told that during the attack of Coronavirus, the ride of Baba Mahakal will be removed according to the same splendor and tradition. But the entry of devotees in the ride will be forbidden. For the convenience of devotees, there will be a system of online viewing. The route of the ride will also be shortened. Collector Ashish Singh has appealed to the general public for cooperation in this system.