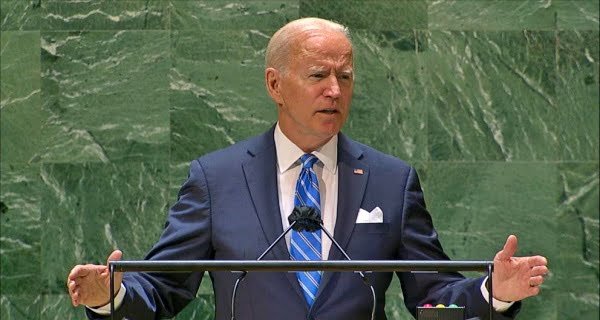 United Nations: US President Joe Biden said on Tuesday that those who promote terrorism against his country will find America as an arch enemy. Addressing the 76th session of the United Nations General Assembly, he said that in the terrorist attack on Kabul airport last month, we lost 13 American heroes and many Afghan civilians. Simultaneously, Biden said that America is no longer the same country that was attacked 20 years ago on 9/11. "Today we are more powerful and ready for the challenges of terrorism," he said.
US President Joe Biden said clearly that America will continue to defend itself and its allies against terrorism. "We don't want another Cold War in which the world is divided… America is ready to work with any nation that pursues peaceful resolutions… because we have all suffered the consequences of our failures," he said.
Biden also spoke at the UNGA regarding the withdrawal of American troops from Afghanistan. He said, "Today we are facing the threat of terrorism, we have ended 20 years of conflict in Afghanistan. We are opening the doors of diplomacy." The US President further said that our security, prosperity, freedom are intertwined and we should work together as before against all the challenges of the world.
US President Joe Biden began his first address to the United Nations General Assembly by mentioning the challenges and losses faced by the world by Kovid-19. He also appealed to the participants to address the issue of climate change.
Biden is delivering his UN address at a difficult time as the withdrawal of US forces from Afghanistan under his presidency and a new deal with Australia and Britain has angered France, one of America's oldest European allies.
Biden told participants that he would outline how the US wants to work with partners and allies to help lead the world toward a more prosperous future for all people. "For the sake of our people, we must also engage deeply with the rest of the world," he said.