Islamabad: Pakistan and the US on Friday discussed regional security issues and bilateral economic cooperation, including the situation in Afghanistan. US Deputy Secretary of State Wendy Sherman said in a tweet that she met with Pakistan Foreign Minister Shah Mehmood Qureshi to discuss the future of Afghanistan and the US-Pakistan relationship.
We look forward to continuing to address regional and global challenges. Foreign Ministry sources said that Sherman went to the Foreign Office to hold talks with Qureshi on the burning issue of Afghanistan. During the detailed talks, the two sides agreed to work together for lasting peace in Afghanistan.
In another tweet, the US Deputy Secretary of State said that he also met Pakistan's National Security Adviser Moeed Yousuf to discuss areas of cooperation in Afghanistan and US-Pakistan relations.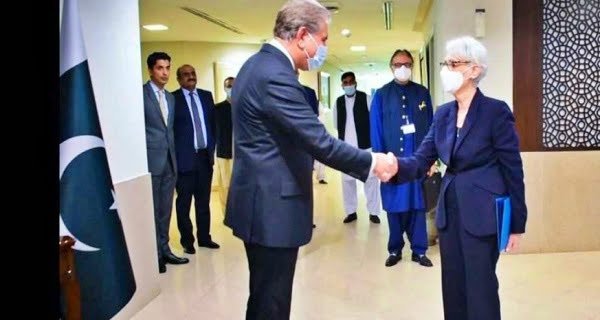 The US embassy here said Sherman met Yusuf on Thursday. Discussed developments in Afghanistan and ways to enhance cooperation in bilateral relations.
According to Radio Pakistan, Yusuf said that the world must maintain contact with the interim government of Afghanistan. Sherman had arrived here from New Delhi on a two-day visit.
According to the Foreign Office, Sherman's visit follows a recent meeting in New York between Pakistan's Foreign Minister Qureshi and US Secretary of State Antony Blinken. This meeting was separated from the annual session of the United Nations General Assembly.
Meanwhile, Dawn quoted a senior diplomatic source as saying that the visit is taking place at a very critical time, in the context of developments in Afghanistan and the wider region.