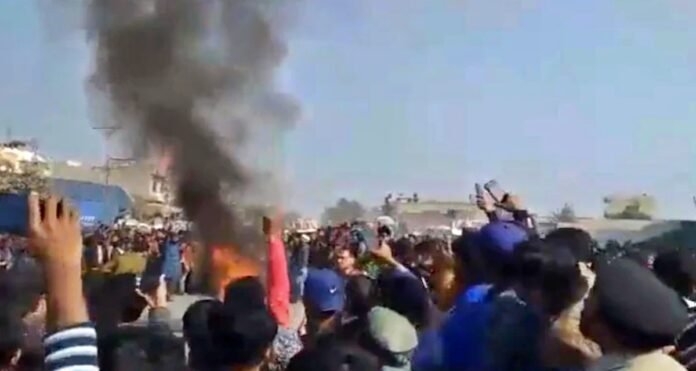 Lahore: A Sri Lankan national was lynched and then burnt to death on Friday, allegedly in connection with blasphemy, by a mob in Pakistan's Punjab province. About 40-year-old Priyanka Kumara used to work as a general manager in a factory in the Sialkot district, about 100 km from here, a Punjab Police official said.
"Kumara allegedly tore up a poster of the radical Tehreek-e-Labbaik Pakistan (TLP) in which verses from the Quran were written and then dumped it in a dustbin, the official said. The poster of the Islamic party was pasted on the wall near Kumara's office. Some factory workers saw him removing the poster and told this in the factory."
Hundreds of people from nearby areas started gathering outside the factory over the incident of "blasphemy". Most of them were TLP activists and supporters. Several videos were released on social media showing hundreds of people standing around the body of a Sri Lankan national. They were raising slogans in support of TLP. Sialkot District Police Officer Omar Saeed Malik told reporters that a large number of police forces have been deployed to control the situation after the Sri Lankan national was lynched.
Punjab Chief Minister Usman Buzdar termed it a very sad incident and ordered the Director-General of Police to investigate the matter and report to him within 24 hours. In a statement, the Chief Minister said, "Every aspect of the incident should be investigated and a report should be filed. Action should be taken against those who have taken the law into their own hands." The situation in the area is tense and all factories are closed.
Police said that no arrest has been made so far. There is a very strict law in Pakistan for defaming Islam and there is also a provision of the death penalty in it. Human rights activists say these laws are often used to fuel personal enmity. A US government advisory panel report says that Pakistan has the most blasphemy laws in the use of any country in the world.