Aden: The Aden Airport located in the Arab country of Yemen resonated with explosions on Wednesday. According to the news agency Reuters, at least 13 people have died in this blast. At the same time, more than a dozen people have been injured. Significantly, shortly before this blast, a ship arrived here with the new cabinet ministers of the government. These ministers had returned from Saudi Arabia. The special thing is that civil war has been going on in Yemen for a long time.
According to Reuters, eyewitnesses present on the spot said that shortly after the ship landed, there were heard gunshots at the airport. According to Reuters reports, cabinet members including Prime Minister Mayan Abdulmalik and Ambassador Saeed Al Jaber have been evacuated to safer places. PM Mayon confirmed to be safe through tweet. He wrote, 'We and members of the government are in the temporary capital of Aden and all is well.' He wrote, "This cowardly terrorist attack targeting Aden Airport is part of the war that has been waged against the state of Yemen and its great people."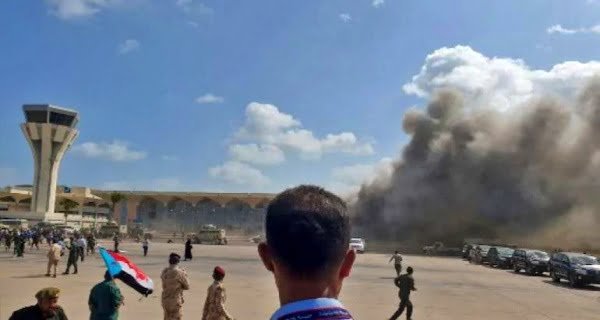 Significantly, the new cabinet of PM Saeed was done to correct the ongoing rift between the forces loyal to President Abd Rabbo Mansoor Hadi and the separatist Southern Transitional Council (STC). The government had tried to resolve the differences between the two parties through this cabinet. The situation in Yemen had worsened after the controversy intensified in 2015. During that time the Saudi-led Arab state took military action to defeat the Houthis and to restore the power of President Hadi.
All the members of the government returned to Aden after compromising with the separatists. The new cabinet united President Hadi's government with southern separatists.