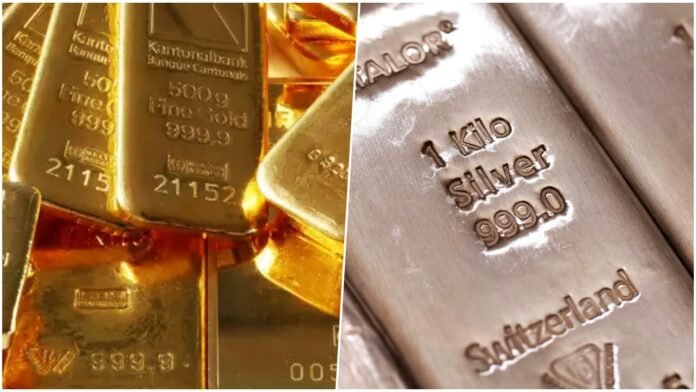 New Delhi: Gold and silver prices have risen sharply in the global and domestic markets, reaching their highest levels in six months, due to the ongoing war between Israel and Hamas and the uncertainty over the interest rate policy of the US Federal Reserve. Investors are flocking to gold and silver as safe-haven assets amid the geopolitical and economic turmoil.
According to the Indian Express, gold prices slipped slightly on Monday due to a slight uptick in US bond yields, ahead of a speech by Federal Reserve Chair Jerome Powell later this week for more clarity on the interest rate outlook. However, gold prices are still hovering around Rs 61,100 per 10 grams, which is just 1% away from the all-time high of Rs 61,650. Silver prices, on the other hand, jumped to Rs 72,000 per kg, which is 6% less than the all-time high of Rs 76,360.
The rise in gold and silver prices is also driven by the high demand from the major countries of the world, such as Russia, China, and India, who are increasing their gold reserves by reducing their dependence on the US dollar. According to MSN, Russia and China are purchasing the most gold, with Russia increasing its reserves by a whopping 155% in a decade and China doubling its gold reserve to about 2,000 tonnes. India, too, is one of the largest consumers of gold and silver, especially during the festive and wedding seasons.
The gold and silver prices in India are determined by the international prices, which move in either direction, as well as the currency movement of the rupee against the dollar and the local taxes and charges.