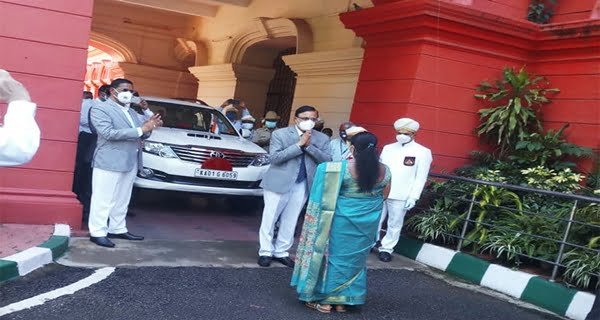 Karnataka: The Chief Justice of Karnataka High Court and some other judges held a unique gathering on Tuesday in the portico of the court building to welcome an employee. The reception was of an employee who had recently returned to duty after recovering from COVID-19.
Normally, all decisions are taken in the courts or judiciary based on evidence and law and it is preferred. Here decisions are not taken on emotions, but it is clear from this picture of the court that even the judiciary beats. This initiative by Judge Oak is greatly appreciated.
Chief Justice Abhay Srinivas Oak welcomed Mary Josephine with a rose at the portico. Many court employees have been tested positive for COVID-19, and some are undergoing treatment and some are quarantined. The Chief Justice had said that there are more than 36 judicial officers quarantined in the district judiciary across the state.
Recently, during the hearing of a PIL, the Chief Justice had explained to the lawyers the difficulty introduced by the staff to maintain the functioning of the court despite the epidemic. Because more than 10 people working in different classes had a positive COVID-19 test.