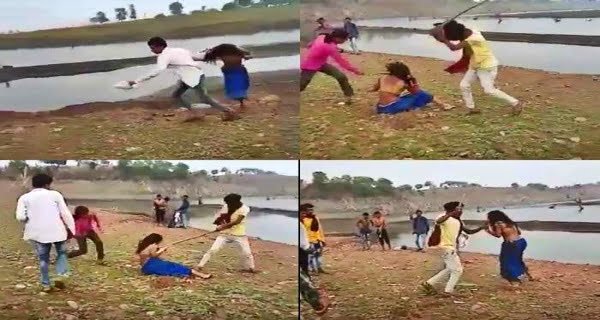 Dhar: In a village in Madhya Pradesh's Dhar district, two tribal cousins ​​were allegedly thrashed with sticks by their own relatives for having a phone conversation with their cousins. Police said the incident took place on June 22 at village Piplwa in the Tanda police station area, about 70 km from Dhar district headquarters, and seven people were arrested in this case on Sunday after its video went viral on social media.
In this video that has gone viral, many people including a woman are seen brutally beating these two girls with sticks and apart from this, they are also dragging them by holding the top of both of them.
Dhar's Deputy Superintendent of Police Yashasvi Shinde said, "On June 25, the incident of assault with two women under Thana Tanda area came to the notice of the police, in which on June 26, all the accused were arrested after registering a crime under various sections of the IPC. was taken. But the case was registered under bailable sections, so the accused got bail. "But after watching the video again yesterday Saturday, today on Sunday some more sections were added in the case and all the seven accused have been arrested and sent to jail under Section 151 of the Code of Criminal Procedure," he said.
At the same time, Tanda police station in-charge Vijay Vaskale said that the incident took place on June 22, both the girls are 19 and 20 years old. He said that after the video came out on June 25, we came to know that his family members had beaten him up. Vaskale said that the police came to know that their family members were angry with the two girls for having a phone conversation with these boys.
Later, the two women were brought to Tanda police station and a case was registered on their complaint, he said. Vaskale said the girls told the police that their cousins ​​and other family members stopped them near a school in the village and objected to them talking to their cousins ​​over the phone and later with sticks and sticks. Got beaten up
It is known that on June 28, in a village in the Alirajpur district of Madhya Pradesh, a 20-year-old married woman was tied to a tree by her parents and brutally beaten with sticks when she went to her maternal uncle's house without informing her in-laws. had done. Its video also went viral on social media and after that four people, in this case, were arrested and sent to jail under Section 151 of the Code of Criminal Procedure.