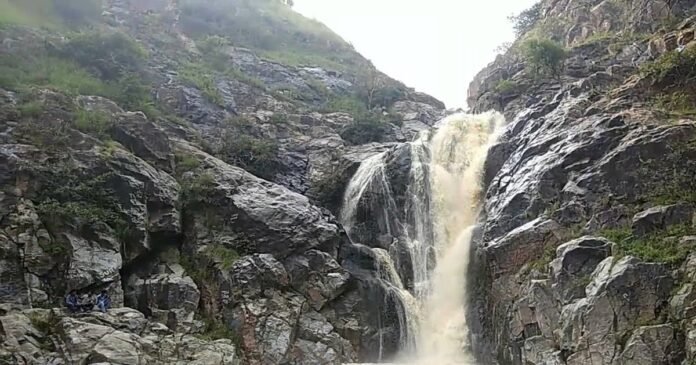 Thane(MH): Tourists will not be able to roam in the places of Thane district in this rainy season. Because the global epidemic corona is difficult to follow in many places including the district's springs, ponds and hilly areas and it may increase the infection of corona. Therefore, the District Magistrate Rajesh Narvekar has implemented a restrictive order in all the tourist places of the district so that there is no infection of any kind in the tourist area.
District Magistrate Rajesh Narvekar says that during the monsoon in Thane district, large scale tourists come to stay the waterfalls, ponds and hilly areas and enjoy the rain. In many places, the case of living loss has also come to light many times. In such a situation, keeping in view the infection of global epidemic like Corona, according to Section 144 of Criminal Procedure Code 1973 and Section 34 of Infectious Disease Control Qaida 1897 and Disaster Management Act 2005, using the authority granted by Tahasdil Nahi Restrictive order has been applied to the sites.
Order will be applicable in these places
Waterfall (Dhab Dhaba) located at Yeur in Thane district, all ponds, Kalwa-Mumbra Reti Bandar Siddagad hill region, Sonale Ganapathi Leni, Harishchandra Garh, Barvi Dam, Bhatsa Dam site, Kundan, Dahigaon, Mahuli Fort, all near Mumbra Bypass Waterfalls, Gayamukh Retibandar Padale Dam, all the waterfalls of Malshej Ghat, Palu Cherwali, Ashok Falls, Kharod, Aaja Parvat (Dolkhamb), Sapgaon River Bank, Kalambe River Bank,
Ghodbunder Retibandar, Uttan Sagri Kinara Khopavali, Gorakhgad, Singapore Naneghat, Dhasai Dam, Ambeete all the waterfalls of Murbad Kasara, Kamba Pavashepada, Khadavali River Complex, Titwala River Complex, Ganesh Ghat Chowpatty River Naka, Ganeshpuri River Complex Kondeshwar, Dhamwa Dham , Is an embodiment of tourist areas like Vahde, Dahivali, Malichiwadi.
Restrictions on bathing in waterfalls and ponds
District Magistrate Narvekar says that the prohibitory order has been implemented in the area around one kilometer around the location of the waterfall and the pond till June 19, when further orders are passed. These jahas have been banned from landing in waterfalls and ponds, swimming and sitting around them. Also, barring vehicles washing essential goods, two-wheel and four-wheel vehicles have been banned for movement.