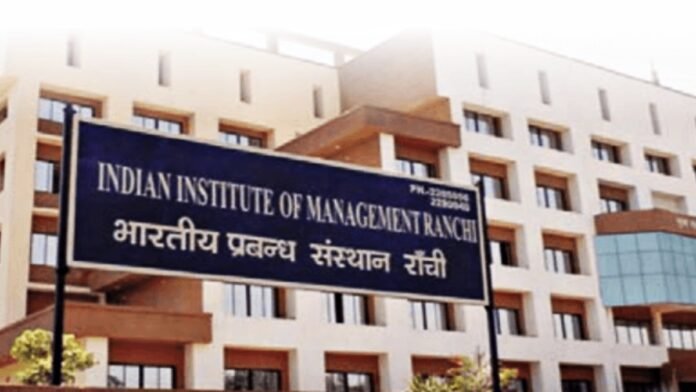 Ranchi: The incident of the suspicious death of IIM student Shivam Pandey located in the Nagdi police station area of Ranchi has come to light. Shivam was a second-year MBA student. All the students of IIM are in shock due to the incident. SIT has been formed to investigate the matter and a five-member team is investigating. Let us tell you that on Tuesday morning, after getting information about the death of Shivam, the police and FSL team also reached and all the things were closely investigated. Both the hands of a young man named Shivam were also found tied, due to which there is a possibility of murder. is also being expressed.
All the students of the IIM campus of Ranchi were in a state of shock when the body of MBA student Shivam Pandey was found hanging from the ceiling fan in the hostel room. Shivam was originally from Banaras and studied at IIM, Ranchi. His room was on the fifth floor of the IIM Hostel located on the IIM campus. According to the information that has come out in the case, Shivam did not attend his class on Monday also, nor did he come out of the room, after which his friends informed the guard.
After this, the guards entered the room by breaking the window and found Shivam hanging from the ceiling fan, while his hands were also tied, after which the matter was informed to the police. Giving information about the matter, Ranchi's Rural SP said that Shivam had told his friend on Sunday night that he was not feeling well. At the same time, he told that at present the police are engaged in the investigation on all points. SIT has also been formed in the case. However, after the incident, everyone on the IIM campus is in a state of shock.
The IIM management has kept silent in this whole matter. Hostel warden Vineet Kumar refrained from saying anything about the circumstances under which Shivam died and when he was not seen since Monday morning and did not attend any class on Monday, then why did the warden take cognizance of this matter? Not taken. In the whole matter, the family members are telling that Shivam was very happy when he talked to him on Sunday itself. Shivam cannot commit suicide.
Shivam's uncle told that Shivam was good in his studies and was very sociable, in such a situation, the matter of suicide does not seem right. At present, the relatives are also seen waiting for the police investigation and postmortem report to come.