Mumbai: Due to heavy rain overnight in the metropolis, 30 people died in incidents of house collapse. Along with this, local train services and traffic are also affected due to waterlogging due to torrential rains in the financial capital. Meanwhile, Chief Minister Uddhav Thackeray spoke to Mumbai Municipal Commissioner IS Chahal and took stock of the rescue and relief operations. He directed the officials to ensure better coordination between the National Disaster Response Force (NDRF), municipal personnel, fire brigade, and police personnel for rescue operations. In view of the rain situation, Thackeray has also called a meeting at 6 pm.
The Western Railway and Central Railway have temporarily suspended suburban train services in Mumbai due to heavy rains and many long-distance trains have either been diverted or operated from other stations, officials said. Used to be. A fire brigade official said that 17 people died after a compound wall collapsed in a landslide triggered by heavy rains in a mountainous area. The wall of a house adjacent to it collapsed after a tree fell at around 1 am at Vashi Naka in the Mahul area of ​​Mumbai, the official said. Seven people were injured in the incident, who have been admitted to the nearby Rajawadi Hospital.
Seven people died due to the collapse of six kutcha houses
Seven people were killed and two were injured when six kutcha houses collapsed due to a landslide in Mumbai's Vikhroli suburb at around 2.30 pm due to heavy rains, he said. The injured have been admitted to a nearby hospital. At the same time, a 16-year-old boy died when the wall of the forest department complex collapsed in suburban Bhandup.
Local train services suspended
Railway officials said that the suburban train services of the Central Railway and Western Railway were suspended in the financial capital due to waterlogging on the tracks due to heavy rains overnight. He said the service was restored in the morning. This rain reminded me of 944 mm of rainfall in 24 hours on July 26, 2005. An official of the Brihanmumbai Municipal Corporation (BMC) said that the India Meteorological Department (IMD) has issued a red alert for Mumbai in the background of heavy rains.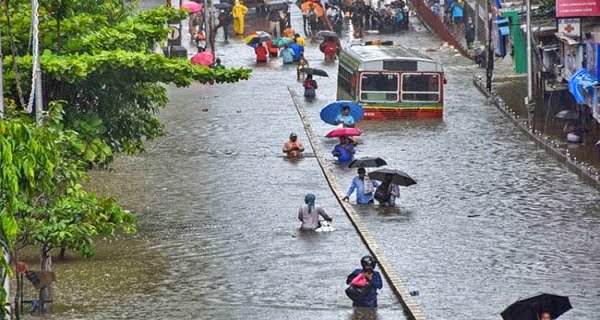 More than 100 mm of rain in 6 hours in Mumbai
A 'Green' alert means 'no warning' that means no action is required by the authorities and it is a forecast of light to moderate rain. A 'Red' alert is an 'alert' signal asking the authorities to 'take action. The 'orange' alert suggests that the authorities should 'be prepared'. The IMD, in its bulletin issued on Sunday morning, said that due to the sudden change in climatic conditions, Mumbai received more than 100 mm of rain in six hours.
Heavy rain forecast at some places in Mumbai
The Meteorological Department has also changed the rain forecast for the city from Orange to Red Alert. The IMD said that till 6.30 am on Sunday, Mumbai and adjoining areas received more than 120 mm of rain in the last 12 hours. It predicted that Mumbai would receive 'heavy to very heavy rainfall at some places and extremely heavy rainfall at isolated places. According to IMD, extremely heavy rainfall means rainfall of more than 204.5 mm and heavy rainfall between 115.6 mm to 204.4 mm in 24 hours.
According to a bulletin issued late last night at 3 pm, the IMD recorded 213 mm in Santa Cruz, 197.5 mm in Bandra, and 174 mm in Colaba in the city. Following heavy rains, Western Railway announced the suspension of suburban train services due to water-logging at many places. The Divisional Railway Manager, Mumbai Division of Western Railway tweeted, "Due to waterlogging at many places, no Western Railway local train services will run in both the Up and Down directions at this time."
Train services between CSMT and Thane on the mainline were suspended due to waterlogging on tracks at Dadar, Parel, Matunga, Kurla, Sion, Bhandup, and other places, Central Railway said. Its chief spokesperson Shivaji Sutar said, "Services from CSMT to Vashi including Bandra/Goregaon suburban services are also suspended." Several long-distance trains of Central Railway and Western Railway were affected due to waterlogging on the tracks. Before the pandemic, more than 3,000 suburban train services – both Central Railway and Western Railway – were used by over 75 lakh passengers daily. During the pandemic, suburban train services are restricted to emergency services employees and government employees.