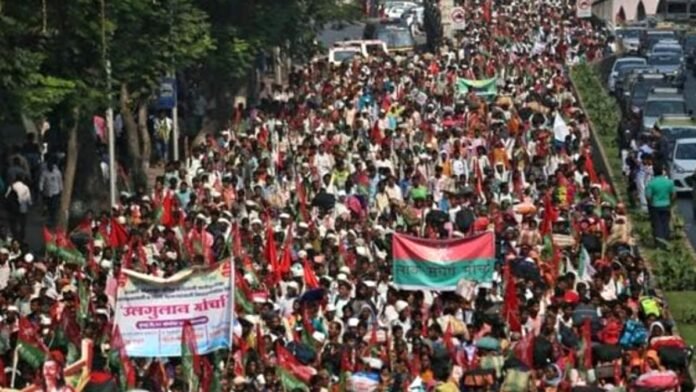 Mumbai: State Chief Minister Eknath Shinde and Deputy CM Fadnavis will now hold a meeting with farmer representatives in Mantralaya today at 3 pm amid strong protests and long marches by farmers in Maharashtra. It is to be known that, along with the farmers, many workers from the unorganized sector, Asha workers, and many members of the tribal society have also participated in this long march of the farmers.
Please inform that Maharashtra Minister Dada Bhuse said after the talks with the farmers last Wednesday, 'We discussed their 14 issues and agreed on many issues. We request CPI and farmers to meet CM and Deputy CM at Mantralaya. The Chief Minister and the Deputy Chief Minister will meet the representatives of the farmers at Mantralaya tomorrow at 3 pm.
Significantly, more than 10,000 farmers of Maharashtra have marched from Nashik to Mumbai with a list of their 14 demands, including the right price for onions. Earlier, the Eknath Shinde government had sent minister Dada Bhuse and minister Atul Save to stop this long march.
On the other hand, on Wednesday, there was a discussion for two hours after the meeting of ministers Bhuse and Save in the Shinde government with the farmer leaders involved in the long march. But the farmers are adamant about meeting only CM Eknath Shinde and Deputy CM Devendra Fadnavis. In such a situation, a special meeting has been held in the ministry today at 3 pm in the presence of CM Eknath Shinde and Deputy CM Devendra Fadnavis.
However, this meeting was to take place only on Wednesday. But the farmers had refused to send their delegation to Mumbai to meet CM Shinde. The farmers had said, "If you want to meet Shinde or Fadnavis or the concerned minister, then come to us. We will not go to Mumbai to meet him.