Nagpur: The second capital of Maharashtra faced a flood-like situation on Saturday after heavy rains lashed the city overnight, disrupting normal life and causing huge losses to people and property. Deputy Chief Minister Devendra Fadnavis announced a relief package of Rs 10,000 for each flood-affected family and small roadside shop owner, and up to Rs 5 lakh for big establishments that suffered damage.
IMD issues an orange alert
Union ministers Nitin Gadkari and Devendra Fadnavis, who are both MPs from Nagpur, visited the worst-hit areas on Saturday and held a review meeting with the district administration in the evening. Fadnavis said that more than 10,000 houses were inundated by flood water and urged people to stay indoors as the India Meteorological Department (IMD) had issued an orange alert for the city for the next 24 hours.
Lakes overflow, rivers swell
According to the IMD, Nagpur airport recorded 106 mm of rainfall till 5.30 a.m. on Saturday. The heavy downpour, accompanied by thunder and lightning, started around 2 a.m. and continued till late morning. The city's largest Ambazari Lake and Gorewada Lake overflowed, spilling water into the Nag River and Pili River. The overflowing rivers flooded several low-lying areas, especially along their banks. Many drains also got choked and water entered residential colonies, marketplaces, schools, and hostels. People said they had never witnessed such heavy rain in the city.
Two women die, and 14 cattle drown
The flood claimed the lives of two elderly women, identified as Mirabai Pilley (70) of Mahesh Nagar and Sandhya Dhore (80) of Surendragadh Nagar, who died due to water entering their houses. The bodies of two men were also found in Nag River near Rani Jhansi Square and in a pit near the Trauma Centre of Government Medical College and Hospital. Fourteen cattle also drowned in the flood water.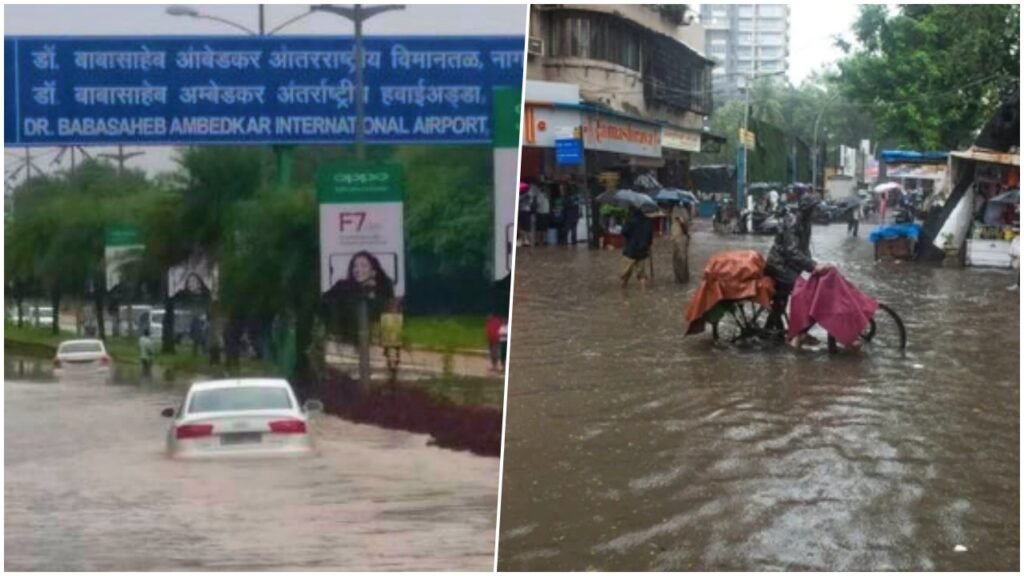 NDRF, SDRF, and Army conduct rescue operations
As soon as the situation worsened, teams from the National Disaster Response Force (NDRF) and the State Disaster Response Force (SDRF) were deployed for rescue and relief operations. Personnel from the Guards Regimental Centre (GRC) and the Army also joined them. More than 400 people, including 70 students from a school for the speech and hearing-impaired, were rescued from various areas such as Ambazari, Sitabuldi, Morbhavan Bus Stand, and Variety Chowk. They were shifted to safe places and provided food and basic amenities.
NMC declares holiday for schools and colleges
The Nagpur Municipal Corporation (NMC) declared a holiday for all schools and colleges in the city as a precautionary measure. It also issued an advisory to the citizens not to venture out of their homes unless necessary. It said that many city roads were waterlogged and unsafe for travel. It also provided helpline numbers for emergency services.