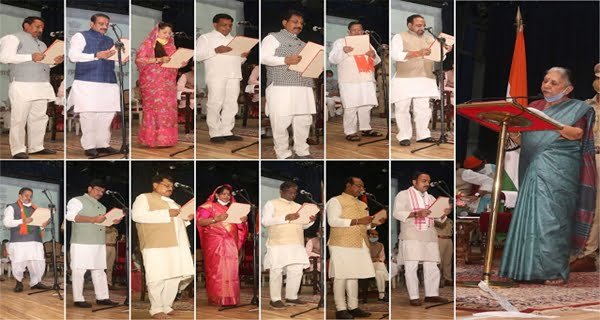 Bhopal: Governor Mrs. Anandi Ben Patel administered the oath of office and secrecy to the ministers. The cabinet expansion oath-taking program was held at the Sandipani Auditorium in Raj Bhavan. Chief Minister Shri Shivraj Singh Chauhan was present at the function.
In the swearing in ceremony, 20 cabinet and 8 ministers of state took oath. As Cabinet Ministers Shri Gopal Bhargava, Shri Jagdish Deora, Shri Vijay Shah, Mr. Bisahulal Singh, Mrs. Yashodhara Raje Scindia, Mr. Bhupendra Singh, Mr. Edal Singh Kanshana, Mr. Brijendra Pratap Singh, Mr. Vishwas Sarang, Mrs. Imarti Devi, Dr. Prabhuram Chaudhary, Mr. Mahendra Singh Sisodia, Mr. Pradyumna Singh Tomar, Mr. Prem Singh Patel, Mr. Omprakash Saklecha, Ms. Usha Thakur, Mr. Arvind Bhadauria, Dr. Mohan Yadav, Mr. Hardeep Singh Dung and Mr. Rajwardhan Singh Premsinh Dattigaon were sworn in.
As Ministers of State, Shri Bharat Singh Kushwaha, Shri Inder Singh Parmar, Shri Ramkhelavan Patel, Shri Ram Kishore Kanvere, Shri Brijendra Singh Yadav, Shri Giriraj Dandoutia, Shri Suresh Dhakad and Shri O.P.S. Bhadoria took the oath of office and secrecy.
Union Minister for Agriculture and Farmers Welfare, Rural Development and Panchayat Shri Narendra Singh Tomar, Union Minister for Social Justice and Empowerment Shri Thawarchand Gehlot, Union Minister of State for Culture and Tourism Shri Prahlad Patel, MP Shri Jyotiraditya Scindia, MP Ms. Pragya Thakur All the ministers of the cabinet were present. The oath law was administered by Chief Secretary Mr. Iqbal Singh Bais.