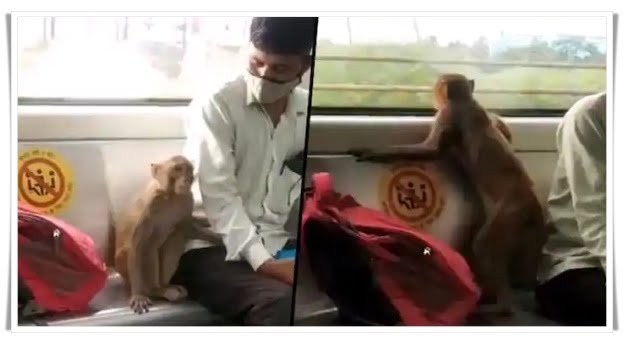 New Delhi: Monkeys have created a ruckus in the national capital of the country, Delhi. Their number has increased so much that even the metro is not safe from them. These monkeys are now entering even inside the metro train and are traveling on the seat with the passengers. Actually, these days a video is becoming increasingly viral in Delhi. In the viral video, it can be seen that a monkey rode with the passengers inside the metro. After this, as soon as the train opened, he went to the seat and sat down. During this, he keeps watching the outside view from the glass in the window.
According to the information, this monkey sometimes walks inside the coach and sometimes sits on the seat. Also travels sitting next to people. At the same time, it is being said that the video is of a line going from Anand Vihar to Dwarka. In the video, the monkey sits on the seat next to a person and then starts seeing the outside view from the mirror installed in the metro. In between, he is also seen holding hands in the hands of the person. However, it is not yet clear when this video is taken. People are sharing this video a lot now.
Cutouts of monkey were installed in the Covid Care Center
Let us tell you that the number of monkeys in Delhi has increased a bit. Recently, news came out that the number of monkeys in the Chhatarpur area of ​​South Delhi is very high. There are many farmhouses and temples and ashrams in this area. Here food items including fruits are provided to these monkeys daily by common people and devotees. But now the terror of these monkeys has become a problem for many people. To counter the menace of monkeys, the Indo-Tibetan Border Police (ITBP) had installed cut-outs of langurs at the 500-bed Sardar Patel Covid Care Center.