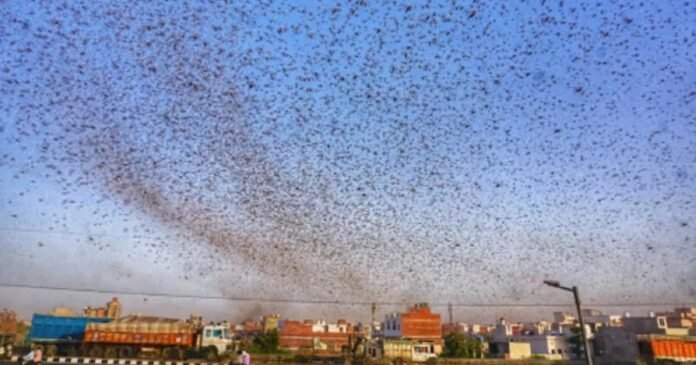 Neemuch / Mandsaur / Ratlam / Agar-Malwa. Madhya Pradesh Locust attack Locust teams from Rajasthan were active in Neemuch, Mandsaur, Ratlam and Agar-Malwa districts of MP for the third consecutive day. People tried to chase them in their own way. In Ratlam, the agriculture department wiped out locusts with pesticide spraying. There are reports of damage to vegetables in the fields. Locust teams attacked Naimgaon, Kesarpura, Damodarpura, Khor and other villages of Javad development block in Neemuch. Vegetables and green grass were damaged by the team in other villages, including Rupavas, Lodhakia and Deori Khawasa of Manasa development block. The villagers tried to chase away the locust by playing utensils and drums.
In Mandsaur, drug spraying was carried out with the help of 3 fire brigades and eight tractors in Afzalpur village of Mandsaur. Later a group of locusts migrated towards Ratlam district and the other towards Shamgarh-Suwasra. 60% of locusts were eliminated by locusts from Hanumantia in Alot district area of ​​Ratlam, four km from Khajuri Deora on Monday night.
On Tuesday morning, the officials of the administrative and agriculture department, with the help of the villagers, carried out a campaign of locusts for five hours. For the sixth time locust crews were seen in several villages in Agar-Malwa district by applying compressors to 12 tractors and spraying medicine with two fire lorries. The villagers tried to drive away the locust party by playing utensils.