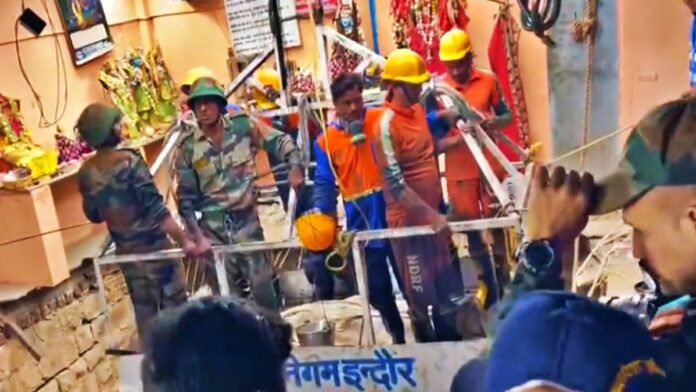 Indore: On Thursday noon on Ram Navami, Havan was being held at Shri Beleshwar Mahadev Jhulelal Temple in Patel Nagar of the city since morning. After this, during the Kanya Pujan in the temple, the roof of the stepwell caved in, due to which more than 50 people present there fell into it. All of them were sitting on the terrace of the stepwell. Children, women, and men were also included in those who fell into the stepwell.
Reason for the increase in the death toll
The biggest reason for the increase in the death toll in the accident is that the stepwell was filled with water when people fell. As soon as the floor fell, people fell inside the stepwell, and others fell on top of each other, while at the same time, iron bars and debris used in the construction fell on the people and they were injured. Due to the water filling, the jawans engaged in the relief and rescue work also had to struggle a lot. After about six hours of the accident, the water of the stepwell could be emptied and the people were taken out. At the same time, the water from the sources of water was continuously filling in the stepwell, due to which the army personnel had to face a lot of difficulties during the relief and rescue work. Being a very old stepwell, silt was also deposited in it.
Instructions were given to investigate the incident
CM Shivraj's second statement came in the evening in which he said that after many efforts many citizens could not be saved. Instructions have been given to investigate the incident. Chief Minister Chouhan said that a relief amount of five lakh rupees will be provided to the family members of those who died in the incident. Along with the free treatment of the injured, an amount of 50 thousand per injured will be provided. Also said that the state government will bear the full expenses of the treatment of the injured.
A case of culpable homicide was registered against Temple Trust President Sevaram Galani and Secretary Murli Sabnani at around 11 am. The last dead body was also found at 12.15 pm. The death toll in the accident reached 36.