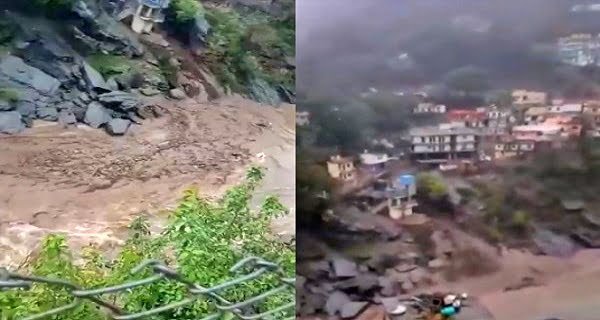 Devprayag: In Devprayag on Tuesday, due to cloudburst many buildings sunk in the waterslide. Municipal multipurpose buildings and ITI buildings were demolished. 8 shops were also drowned in the debris that came with the water. The water level of Bhagirathi has increased due to the debris. Giving information about the incident, Tehri SHO said that 12-13 shops have been demolished so far. We have alerted people. Rescue work is in progress.
Giving information about the incident, Uttarakhand DGP Ashok Kumar said, "There has been a cloudburst in Devprayag police station area in Tehri in which 7-8 shops and ITI buildings have suffered heavy damage. There has been no loss of life. Our SDRF teams She has reached the spot and is helping out as much as possible. "
The cloudburst caused havoc in the Shanta river causing havoc in Shanti Bazar of the city. The three-story building of the ITI was completely demolished while more than ten shops along the Shanta River were washed away. The path and culvert from Devprayag Nagar towards the bus stand have been completely washed away. The situation has not been cleared yet due to someone being buried in the debris. Due to the Corona curfew, the closure of shops, including ITIs, has resulted in saving heavy loss of life and property.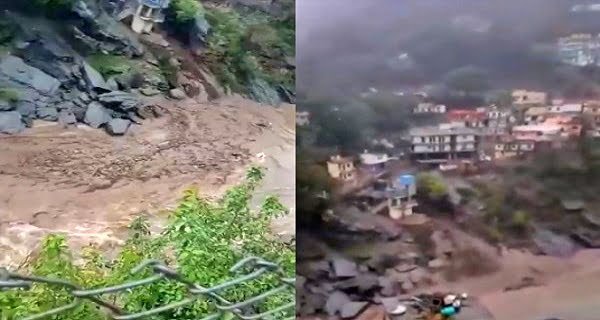 About four o'clock on Tuesday evening, due to cloudburst on the mountain of Dasharatha, there was a flood in the Shanta River originating from here. Shanta river joins Bhagirathi via Shanti Bazaar from the bus base. Heavy bowlers who came with the flood caused havoc in Shanti Bazaar. The three-storey building of ITI has become ground-breaking. The present security guard Dewan Singh jumped and saved his life. Computer centers, private banks, electricity, photo shops etc. present in the ITI building were also destroyed. On the other hand, the culvert on Shanta river, jewelers along with Rasta, shops of clothes, sweets etc. also got flooded. There is an initial estimate of loss of crores in Shanti Bazaar. Police have not yet reported any casualties. If Corona curfew had not been in place then there could have been a large number of mass loss.