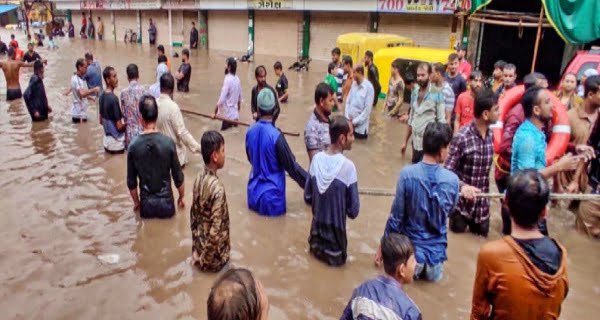 Gandhinagar: The orgy of heavy rains continues in Gujarat. There is a flood-like situation in Jamnagar-Rajkot and Junagadh of the state. So far 39 people have been rescued. Only water is visible on the roads. Houses and houses seem to be submerged. Helicopter rescue operation is going on in the state. The worst situation is in Jamnagar.
Let us inform you that NDRF Deputy Commandant Ranvijay Singh has so far rescued 39 people and 11 people have been shifted to a safe place as well as 1 dead body has been recovered. Presently 2 teams are doing rescue operations in Rajkot and 1 team in Porbandar.
The flood-like situation in low-lying areas of Rajkot-
At the same time, on the forecast of the Meteorological Department of heavy rain for three days in Gujarat, Rannvijay Singh said that there are 20 teams in the state, out of which 18 teams have been deployed by the IMD wherever there is a possibility of rain. 2 teams are kept in reserve.
It may be mentioned that 18 dams are overflowing due to heavy rains in the Jamnagar district of Gujarat. Many areas are completely submerged in water. In many areas, the first floor of the houses is flooded with water. Most of the people have taken shelter on the roofs of their houses.