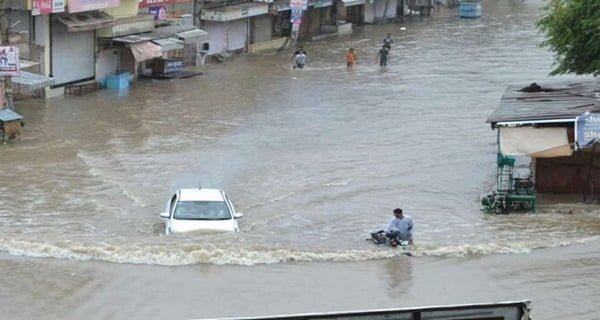 Jaipur: Heavy rains in the capital since this morning made the roads impassable. The rain started continuously at 9 am in the city. During the time of going to office, the rain reduced the speed of people. Beginning with light rain in the morning and after an hour, the roads of Jaipur were seen flowing like a river. The problem of water logging in various areas of the city was clearly revealed.
Traffic stopped
Vehicles were stopped from filling water at Arjun Nagar, JP underpass. So at the same time, the flow was also fast in Kartarpura drain. Due to the waterlogging in the low-lying areas, the houses were also flooded. There were complaints of water filling the basement in offices and shops. Water-logging on civil lines, Statue Circle, Ambedkar Circle and Vidhan Sabha called VIPs of the city also damaged many two-wheelers. In many places, the damage was also suffered due to unloading of vehicles in water. The car was damaged due to the fall of the wall of the Rajfed office near the potato factory in the Bais Godown. The problem of filling the water in the raw slums of the city came to light. In Jhalana, Jawahar Nagar and Puppet Nagar, the townships, people waited for a long time for the water to enter the houses.
Stadium wall collapsed
The collapse of the SMS stadium near the assembly averted a major accident here. The police took over the situation here. Many government offices in the capital were flooded. Water was flooded at both the gates of the main gates of Rajasthan University, causing problems for commuters. Actually, water gets filled even after light rains at the university gates, there was flood-like rain in Jaipur on Friday, so water had to be filled here. The university administration has not made a drainage system, so that water gets filled up here. At the same time, water was also filled in many departments of RU. LS Swamy Hall of the Zoology Department was flooded, while in the Department of History, due to the rain, plaster fell from the wall.