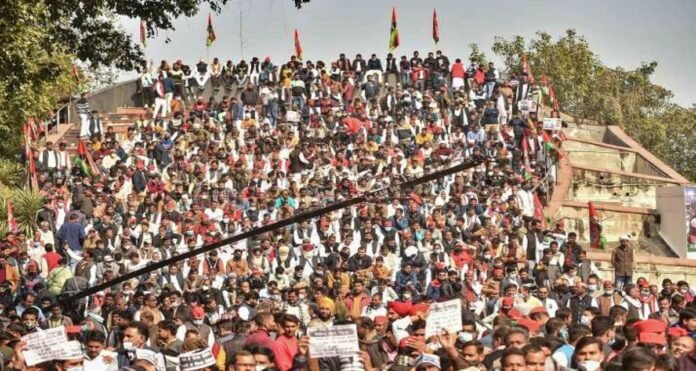 Lucknow: The political phase is going on before the Uttar Pradesh assembly elections. Meanwhile, an FIR has been lodged against the Lucknow-based Samajwadi Party for breaking section 144 and under the Epidemic Act. Actually, today i.e. on Friday, many BJP MLAs including Swami Prasad Maurya and Dr. Dharam Singh Saini, who were part of CM Yogi's cabinet, joined the party in the presence of SP chief Akhilesh Yadav. Not only this, but this many leaders including Akhilesh had also given speeches. While there was a huge crowd in the office.
On organizing the rally of the Samajwadi Party, Lucknow District Magistrate Abhishek Prakash said, "After registering an FIR in the matter, instructions have been given to the police officers to take action under the rules and regulations." Violation of the code of conduct, Covid-19 has been violated. Earlier, the DM of Lucknow had said that the rally of the Samajwadi Party is being held without permission. The police team sent to SP office, necessary action should be taken in this regard.
Samajwadi Party made this allegation on BJP
Samajwadi Party's UP chief Naresh Uttam Patel said after the FIR was registered that there was a virtual program inside our party office. We did not call anyone, but people came. During this everyone followed the Covid protocol. Also said that at this time there is a crowd in the doors and markets of BJP ministers, but they only have a problem with us.
At the same time, former UP minister Omprakash Rajbhar has given a big statement after the FIR was registered on SP. He said that section 144 does not apply inside the boundary. If it is a matter of corona guidelines, then get it checked. If we are guilty then the police should take action, but get the investigation done first. With this, he said that we had said two and a half months ago, let the model code of conduct be imposed, one and a half dozen ministers will come. It has been discussed till the village that BJP has gone. Let us tell you that Rajbhar has an alliance with the SP.
Swami Prasad Maurya said this thing
In the program of SP, Swami Prasad Maurya said that the one I leave with does not exist. Behenji (Mayawati) is living proof of this. She changed the slogan of Kanshi Ram, so I opposed her, but she did not agree and today she does not exist. At the same time, he said that Akhilesh Yadav is an educated youth and has the support of lakhs of people of the state. Together with them, we will destroy the BJP.
Today these leaders joined SP from BJP
Swami Prasad Maurya (was a minister in the Yogi cabinet)
Dr. Dharam Singh Saini (was a minister in the Yogi cabinet)
Bhagwati Sagar (MLA)
Vinay Shakya (MLA)
Roshan Lal Verma (MLA)
Dr. Mukesh Verma (MLA)
Brijesh Prajapati (MLA)