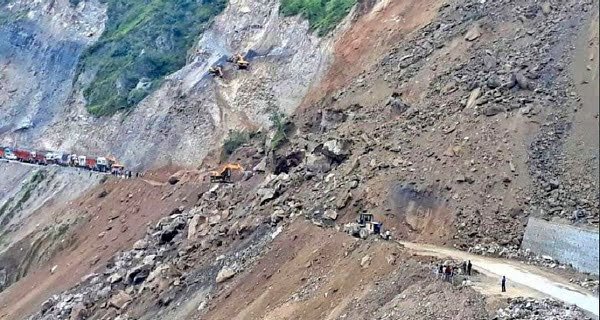 Pithoragarh: The three valleys on the China border have completely cut off contact with the rest of the world. Due to the closure of the lifeline of the International Border, where thousands of lives have been derailed, the security forces are also facing problems. On June 16, the sky disaster had destroyed the road connecting Darma, Vyas, and Chaudas valley. This road, which opened after almost four months, has once again collapsed and the situation here is that the migrant population is facing difficult weather, while on the other hand, the supply of all the daily things has come to a standstill.
Dozens of Landslides
The road connecting Darma and Chaudas Ghati could barely be opened after 110 days, but the devastation caused by the rains from October 17 again made the road dilapidated. The situation is such that there has been a heavy landslide at dozens of places on the important road of the border. Due to this one road, dozens of villages have been cut off from connectivity.
So MLA Dhami will go on hunger strike
Something similar has happened with the road connecting Lipulekh pass. This road too was barely able to open after the rain. These three valleys of the border are also important from a strategic point of view. Security forces also reach the border through these roads. Regional MLA Harish Dhami has warned that if the roads in his area are not opened by November 7, he will start a hunger strike at the DM office on November 8.
Worst condition in Dharchula and Munsiyari tehsils
The condition of Kanar, Milam, Thal-Munsiyari and Jauljibi-Munsiyari road is also bad. The administration has taken out the tourists trapped in these areas with the help of helicopters, but the real problem is with the local people. There are more than 100 villages in these three valleys. These villagers migrate to low-lying areas in winter but are imprisoned in rural valleys due to the closure of roads. Due to the road closure for a long time, the daily essentials have almost come to an end in all three valleys. In such a situation, the prices of the remaining items in the small shops of the villages are sky-high.
DM Ashish Chauhan told that the road connecting the Lipulekh border will open in a few days, while the CPWD has been asked to open the road to Darma Valley. Apart from this, he said that he himself has gone to the spot to take stock of the situation. This year the rain has caused maximum orgy in the border areas. The roads connecting the three valleys are in such bad condition that it may take a long time to open them.