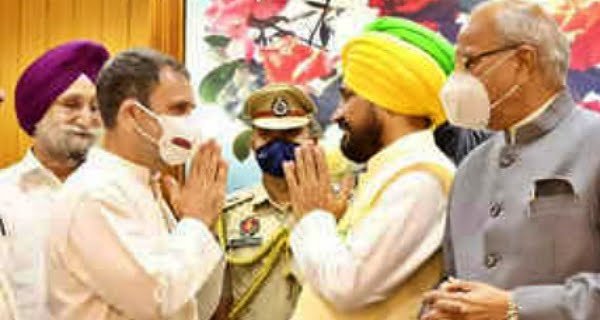 Chandigarh: The political upheaval that has been going on in Punjab for the last 3 months almost came to an end on Monday. Congress leader Charanjit Singh Channi took oath as Chief Minister while Sukhjinder Singh Randhawa and OP Soni took oath as Deputy CM. Congress leader Rahul Gandhi, Punjab Pradesh Congress President Navjot Singh Sidhu, and Harish Rawat were also present in the program. According to the information received, 40 people were invited to the program. Punjab Governor Banwarilal Purohit administered the oath to Channi at a ceremony held at the Raj Bhavan. Channi and both his deputy took oath in Punjabi. Let us tell you that Channi is the first Dalit to hold the post of CM in the state. After taking the oath, Rahul and Sidhu congratulated Charanjit Singh Channi on becoming the new CM of Punjab.
OP Soni's name surfaced just half an hour before 58-year-old Channi was sworn in as the Chief Minister of Punjab. Earlier, it was being claimed about Brahm Mohindra that he would take an oath with Channi. After the resignation of Captain Amarinder Singh, the MLAs unanimously handed over all the powers to choose the new leader to the interim president of the party, Sonia Gandhi, in the Congress Legislature Party meeting on Saturday.
Congress played a big bet
In Punjab, more than 34 percent of the Dalit community has a vote bank and 34 reserved constituencies. The BJP has already announced a Dalit man to be the chief minister's face in the next elections and the Shiromani Akali Dal has also decided to make a Dalit chief minister in a political alliance with the Bahujan Samaj Party. The Congress party has tried to give a political blow to the opposition parties by declaring Charanjit Channi as the Chief Minister.
After the resignation of Captain Amarinder Singh on Friday, Congress discussed many names. In the end, the decision was made on Channi. It is believed that Sidhu had lobbied fiercely in Delhi to make Channi the CM.