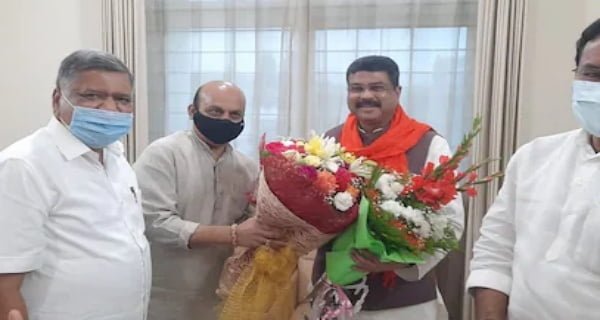 Bangaluru: Basavaraj Bommai will be the next Chief Minister of Karnataka. After the meeting of the Bharatiya Janata Party's legislature party, the observer of the BJP central leadership, Union Minister Dharmendra Pradhan made this announcement on Tuesday. A meeting of the legislature party was called on Tuesday for the process of selecting the new chief minister of the state after senior party leader BS Yediyurappa resigned as the chief minister of Karnataka on Monday. In this meeting, observers of the BJP central leadership, Union Ministers Dharmendra Pradhan and G Kishan Reddy also attended.
Karnataka's caretaker CM BS Yediyurappa expressed happiness over Bommai being elected as the Chief Minister. "We have unanimously elected Basavaraj S Bommai as the leader of the BJP Legislature Party. I thank PM Modi for his support. Under PM's leadership, he (Bommai) will work hard. At the same time, Karnataka BJP leader K Sudhakar said that the decision to make Bommai the CM was taken unanimously by all the MLAs. He said, 'Bommai gets respect not only from the party but also from outside the party. Basavaraj S Bommai will probably take oath tomorrow.
Let us tell you that Basavaraj was earlier handling the responsibility of Home Minister and Law Minister in Yediyurappa's cabinet. Basavaraj Bommai's father SR Bommai is a former Union Minister and Chief Minister of Karnataka. Basavaraj Bommai, who hails from the Lingayat community, is considered the number two leader in the state government. Bommai, considered close to BS Yediyurappa, started his political career with the 'Janata Parivar'.
Bommai had joined the BJP 13 years ago in 2008. Bommai, who started his career as an engineer with the Tata Group, has reached the assembly by winning three consecutive terms since 2008 from the Shiggaon constituency in Haveri district. Before 2008, Bommai was twice a member of the Karnataka Legislative Council. Basavaraj Bommai is also credited with implementing the country's first 100% piped irrigation project in Shiggaon.
It is noteworthy that Yeddyurappa had resigned from the post on Monday, the day of completion of two years of his tenure. Yediyurappa (78) submitted his resignation to Gehlot at the Raj Bhavan on July 26. He had told that his resignation letter has been accepted and he has resigned 'voluntarily'. Yeddyurappa, who played a key role in forming the first BJP government in South India, led the state four times.